The Tatuaje M80 was an exclusive store release for Two Guys Smoke Shop located in New Hampshire.  They currently have three locations (Nashua, Salem and Seabrook) which are owned by Dave Garofalo.  Two Guys Smoke Shop also has a Don Pepin Garcia Blue Label Fire Cracker made for them which is limited regular production and currently out of stock online when I recently checked.  That cigar is 3 x 50 with a pigtail and very similar to the M80 vitola.  However, each cigar has a different wrapper with the Fire Cracker sporting a Nicaraguan Corojo Oscuro and the M80 wrapped with a Ecuadorian Habano Maduro.
The production count of the Tatuaje M80 was 'only' 333 boxes but considering each box contained 15 cigars with a box price tag of $99, you can see how why I put quotation marks around 'only'.  These cigars sold out very quickly with some people buying multiple boxes.  They could have easily made 500 boxes and it would have taken just a few days longer to sell out.
Tatuaje M80 
Wrapper:  Ecuadorian Habano Maduro
Binder/Filler:  Nicaraguan
Size:  4 x 50
Vitola:  Petit Robusto
MSRP:  $6.67
Time In Humidor:  400 days
Smoke Time:  1hr 5min
Drink:  Water
Location:  Backyard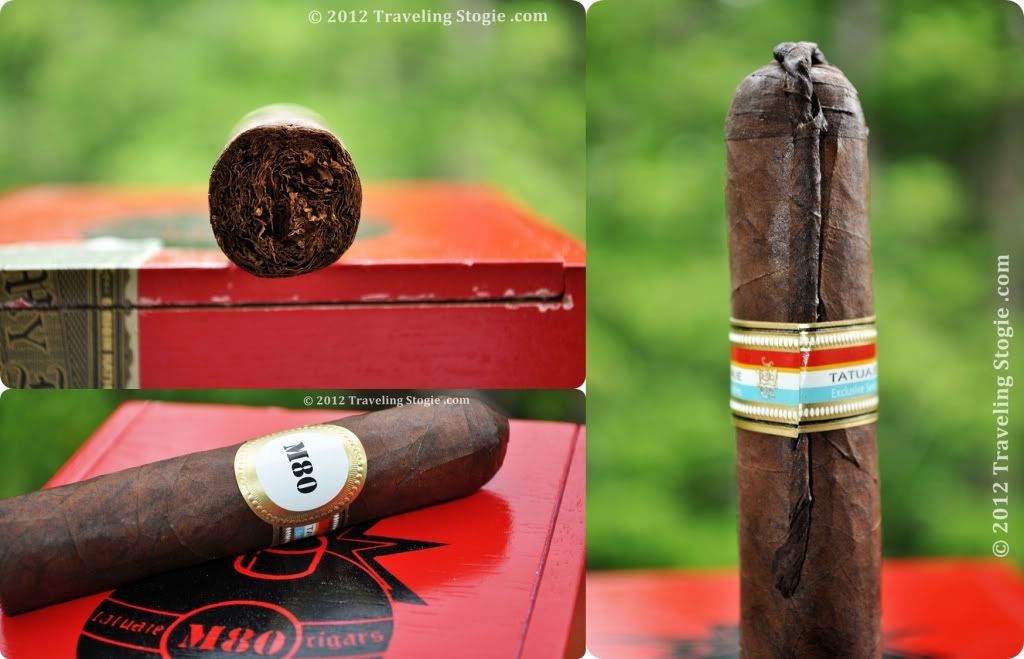 Construction/Appearance:
The M80 comes in a box that is nicely proportioned.  It has a picture of a bomb on it and certainly doesn't look like an M80 however.  Most of Tatuaje's boxes have a clasp or slide top but this box has a tack which required me opening it with knife so I could shimmy it.  The cigar itself has an oily rich wrapper along with the "Exclusive Series" band.
The pigtail on the head is actually tucked under the band so you could potentially cut the head and still have the pigtail "attached" to the cigar.  The M80 feels well rolled and has just the right amount of give when squeezed.  Particularly for size, the cigar has a good amount of weight .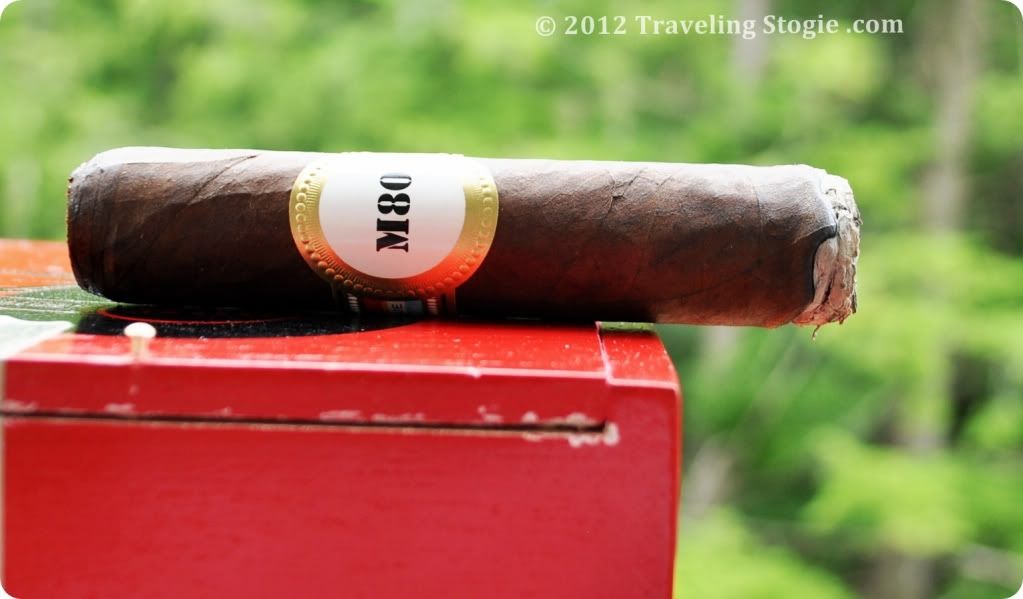 Burn/Draw:
I made a very easy clean cut across the head and removed the pigtail that was tucked under the band.  I don't know what the purpose was for that other than to keep the cigar nice and tight when wrapped in cellophane.  Some other cigars with pigtails (TNT, Firecracker)  get the tail ripped off accidentally when handled so maybe it makes sense.  The cold draw felt smooth and full.
The burn was initially jagged though it would fix itself and stayed fairly even never getting worse than wavy.  I really enjoyed the draw which was loose and it's certainly a testament to the cigar construction.  The smoke is continuous and steady, gently disappearing into the air.  The ash is also solid with a salt and pepper texture lasting easily an inch before falling.
Flavor/Aroma:
The aroma from the cigars was very intoxicating.  Minutes after opening up the seal while writing some information down, the smell from the cedar and cigars was wafting a couple feet over to where I was.  The wrapper gave off notes of cedar and light cayenne pepper while the foot had some chocolate notes mixed in with cedar and red pepper.  The initial draw represented the prelight fairly well as I was greeted by red pepper, cedar and some earthy notes.  There are some dry herbs (tumeric, cumin) as well and a chalky texture to the smoke.
In the first half, the flavors are staying the same but this cigar is leaving my lips a bit dry.  Only 1/4 inch into the smoke and the flavors have mellowed out since I last smoked them at the release (June 2011).  Red pepper is on the front with leather and cedar on the follow.  About an inch more, I notice strong earthy flavors that dissipate soon after.  This cigar is strong but not nearly as strong a year ago.
In the second half, I'm picking up notes of molasses right in the middle of the flavor profile.  The flavors feel a bit more developed in this half as I detect some nuttiness and dark chocolate as well.  The aroma from the smoke is delicious but easily overpowering my environment because of the spiciness.  The strength has all of sudden kicked into overdrive with 1.5 inches to go.  Coincidentally, the last time I smoked a cigar this strong was the release for Tobacco Plaza by Tatuaje called 'Tatuaje DD'.  About an hour later and 1/2 inch, I decide to put the cigar down.
Final Thoughts:
This cigar started out as a strong medium and ending up as a strong full bodied cigar.  For being only 4 inches in length, it packs quite a punch.  The flavors are good but not more than that.  Perhaps I expect more from an "Exclusive Series" cigar but I feel the length matched well with the complexity.  This isn't a cigar you smoke on an empty stomach and certainly not for beginners.
The two cigars that I smoked for this review were consistent in terms of construction, burn and draw and the second one was just slightly better than the first.  I think this cigar shines in the second half moreso than the first half.
This cigar was named after the M-80 and I think it fits the description quite well.  In fact, purchasing the real M-80s are a Class – A felony.  Viaje has been coming out with cigars that are supposed to represent strength, power or explosive flavors such as the C-4, TNT, WMD, FOAB, MOAB and Zombie.  However, for the most part, they haven't lived completely up to the hype surrounding them. The TNT from 2010 was absolutely delicious 9 months later and perhaps that's how it goes with Viaje cigars.
For a cigar lasting a bit more than 1 hour, I think the price point is very fair.  I personally wouldn't want to smoke this cigar in a larger size simply because it wouldn't be enjoyable as a result of the strength.  I bought a box of these because at $99, it's a good deal and allows you to age some for years to come and improve the layers of flavors.
I don't think it quite mimics the Don Pepin Garcia Firecracker release which I will review soon, but if you would like to smoke something with that 'Firecracker' them, it does live up to expectations.  You can reach

Two Guys Smoke Shop

at (603) 891-2122.  Be sure to tell them Traveling Stogie sent you.
Rating:  88
Related Links: