The Cojonu 2012 Reserva and Capa Especial were both released back in March of this year (2012).  This is the first time that the Cojonu line will have three blends available.  Pete Johnson has released a new cigar to the Cojonu brand every three year starting with the Cojonu 2003.  The previous releases (2003, 2006, 2009) had different wrappers on them but have since switched to an Ecuadorian Habano leaf.  The Cojonu 2012 Habano was released at the IPCPR convention in Orlando this past year.  While the other two blends (Connecticut Broadleaf, Ecuadorian Sumatra) were available in a book format featuring a mix of both back in March, they are now in single blend box counts (August 2012).
*****
Cojonu 2003  "6 1/2 x 52″  (Initially Nicaraguan Corojo '99, now Ecuadorian Habano)
Cojonu 2006  "5 1/2 x 52″  (Nicaraguan Shade Grown Viso, now Ecuadorian Habano)
Cojonu 2009  "6 3/4 x 49″  (Nicaraguan Corojo Ligero, now Ecuadorian Habano)
Cojonu 2012 Habano  "6 1/2 x 52″  (Ecuadorian Habano)
Cojonu 2012 Reserva  "6 1/2 x 52″  (Connecticut Broadleaf)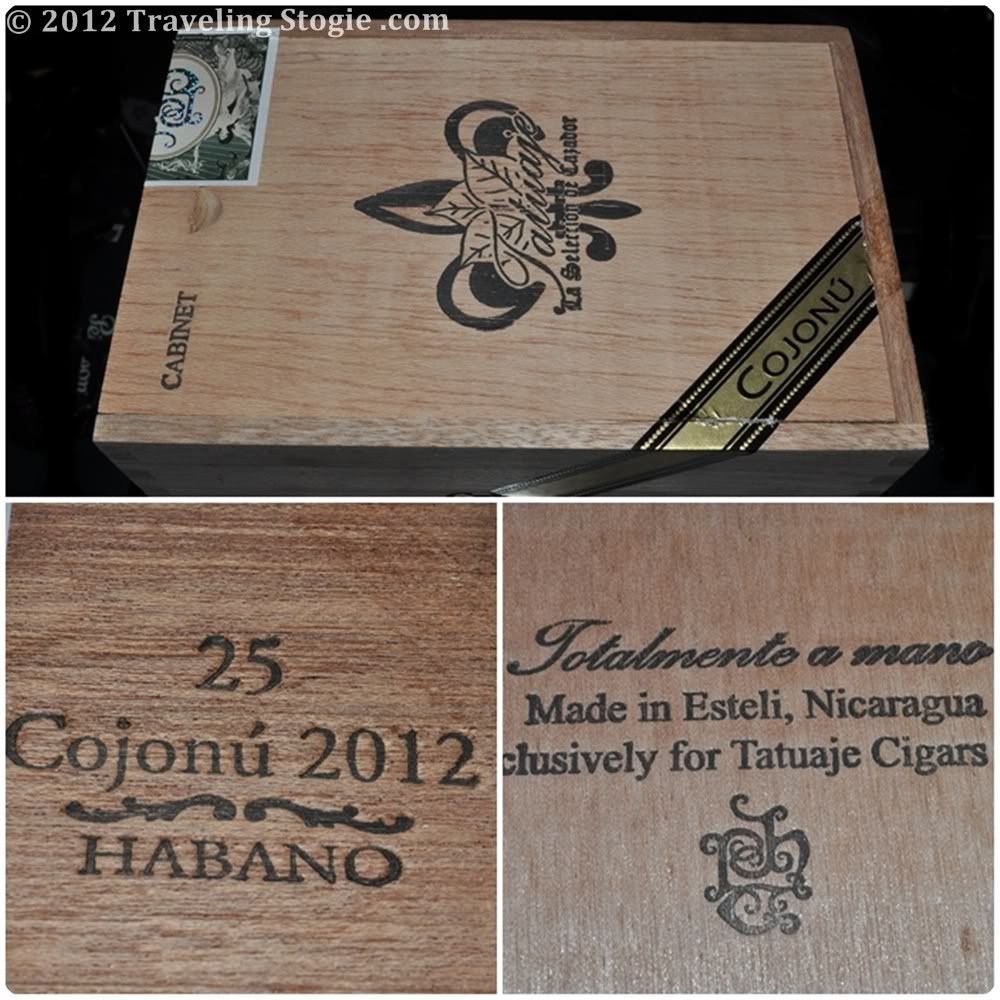 Tatuaje Cojonu 2012 Habano
Wrapper:  Ecuadorian Habano
Binder/Filler:  Nicaraguan
Size:  6 1/2 x 52
Vitola:  Box Pressed Toro
MSRP:  $13.00
Smoketime:  1hr 40min
Time In Humidor:  7 Days
Drink:  Water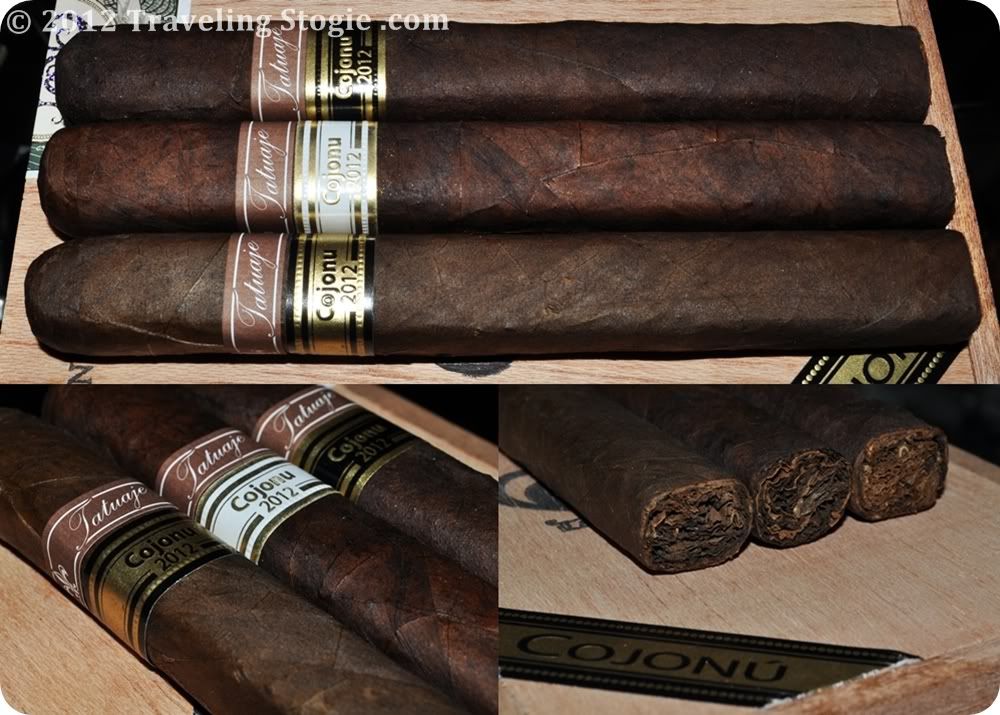 Construction/Appearance:  
At first glance, I see a well made cigar with a light coffee bean wrapper.  The Ecuadorian Habano wrapper doesn't look really oily but it does reflect some shine when angled into the light.  As for personal preference, I'm not a big fan of box pressed cigar, but this one isn't drastic.  There are prominent veins on the sides of the cigar and I like the cap on this Cojonu 2012.  The cigar is a solid feel to it and only one minor soft spot about 1.5 inches from the foot but I stress minor.  The Cojonu 2012 Ecuadorian Habano has some solid weight when holding it  as well.  At this point, I'm liking the appearance and overall construction.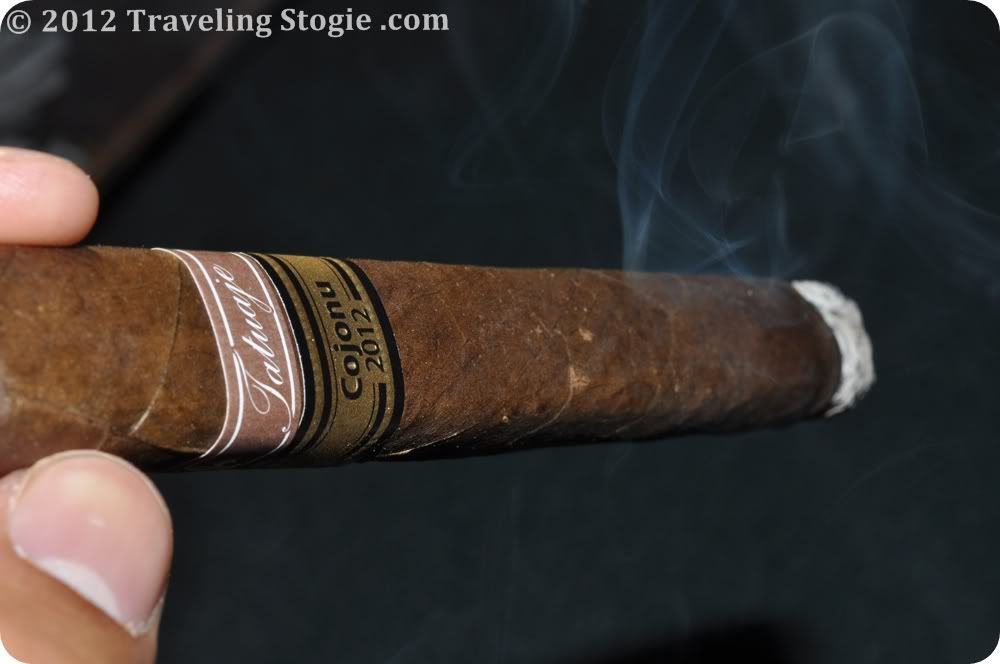 Burn/Draw:  
The cut was very easy and some loose tobacco fell out.  The cold draw was airy but noticed this was the case pretty much with all of the Cojonu 2012s that I've smoke.  Both for this review had similar prelight draws.  The burn started out slightly crooked but was otherwise maintenance free for the duration of the review.  I was concerned about the draw but that turned out to be pleasant as it felt full and easy.  This cigar put out very large volumes of smoke and could have been overwhelming if the smoke eater wasn't running.  The ash turned out to be fragile breaking up completely on impact.  It did last about 1 inch or so before falling.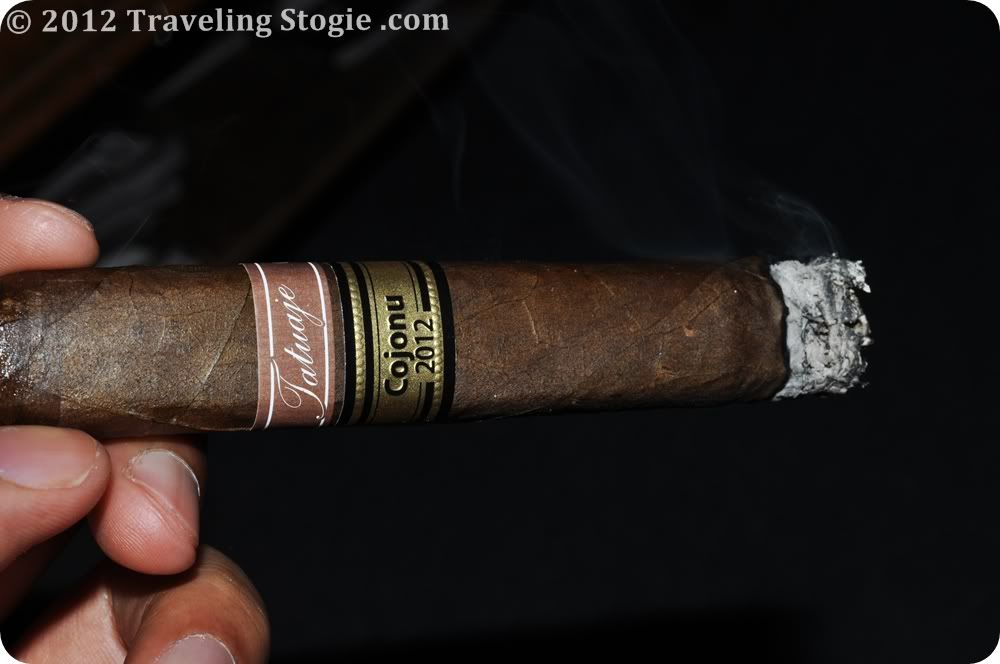 Flavor/Aroma:
The wrapper had a cedar and floral aroma about it while the foot was more cocoa, cedar and spice.  On the initial draw, the pepper dominates the initial notes as it is hard to pick up other subtleties.  In the first third, pepper is not nearly as strong though it sits in the back of my throat well into the next draw.  I do taste a flavor reminding me of lemon cookies.  Doesn't quite sit on the palate as much as it is part of the smoke.  It does have a slightly doughy texture to it as well.  This cigar starts off well as a medium strength medium body smoke.
In the next third, I get coffee notes combined with that lemon cookie flavor.  The pepper smooths out even more and works with the existing flavors.  While the cigar isn't overly complex, the profile is enjoyable and really like the unique notes.  As I enter the last third, the same flavors makes their presence felt, a mix of lemon, coffee and pepper.   The cigar isn't changing but it is definitely consistent.  Those lemon cookie notes do linger on the finish in this part.  Wood tastes entered in the last one inch before I put the cigar down.  The Cojonu 2012 Habano probably finishes as a bit under full and the complexity was medium.
Final Thoughts:
I couldn't pick out that lemon cookie note for a while until it just hit me.  It's such a unique flavor but one that makes this cigar rise to the top.  I am probably
The Tatuaje Cojonu 2012 Habano has enough strength to appease smokers that enjoy full strength cigars though it could be on the borderline for those that appreciate medium strength vitolas.
I am fan of Ecuadorian Sumatra wrapper such as is on the Cojonu 2012 Capa , 7th Capa or even the Wolfman.  However, I feel the Ecuadorian Habano really shines compared to the rest of the lineup.  Not as strong nor not as complex, but it delivers and it delivers consistently.
I smoked both of the cigars essentially with only a week of rest on them.  I absolutely feel that while the cigar may score the same or improve marginally, it should be more "unified" or together in 6 months.
At $13.00, it does have a high price as do all the other Cojonu 2012 but while it may not be an everyday smoke for most people, I found this cigar to be enjoyable enough where I would buy a five pack or even buy singles when visiting shops.  I'm not saying the cigar doesn't deserve it's price tag, but if it were a dollar or two less, I personally would purchase a box.