Litto Gomez Small Batch cigars was released to the public in 2006 with an production count of approximately 20,000 cigars.  The goal was make a cigar in it's entirety from the La Canela Farm in Dominican Republic.  Even though the majority of quality tobacco was small , they were able to produce enough to make a cigar in limited amounts.  Hence, the name "Small Batch".  The Litto Gomez Diez Small Batch #3 was produced from a 2004 crop.  As with the Small Batch #1 and #2, it uses Dominican grown Sumatra seed tobacco.  For Small Batch #4, Litto Gomez decided to go with a Pelo de Oro wrapper which entirely different from the previous 3 Small Batches..  It was also recently announced that La Flor Dominicana will be releasing a Small Batch #4 with a Pelo de Oro Oscuro Wrapper this week (6/25/12) which you can read more about here.
Small Batch #4 Oscuro

Wrapper:  Pelo de Oro Oscuro

Binder/Filler:  Dominican

Size:  7 x 52

Expected Release Date:  June 2012

Production Count:  10.5k  (crates of 105)

*

Wrapper:  Pelo de Oro

Binder/Filler:  Dominican

Size:  7 x 52

Release Date:  November 2011

Production Count: 26k (crates of 105)

*

Wrapper:  Dominican Sumatra

Binder/Filler:  Dominican

Size:  6 3/4 x 52

Release Date:  August 2010

Production Count:  30.5k (crates of 105)

*

Wrapper:  Dominican Sumatra

Binder/Filler:  Dominican

Size:  6 1/2 x 54

Release Date:  2007

Production Count:  30k (crates of 105)

*

Small Batch #1

Wrapper:  Dominican Sumatra

Binder/Filler:  Dominican

Size:  7 x 52

Release Date:  2006

Production Count:  20k (crates of 105)
6/27/2012
Litto Gomez Diez Small Batch #3 (Redux)
Wrapper:  Dominican Sumatra
Binder/Filler:  Dominican
Size:  6 3/4 x 52
Vitola:  (Super) Toro
MSRP:  $17.00
Time In Humidor:  22 Months
Smoke Time:  2hr 40min
Drink:  Water
Location:  Backyard
Construction/Appearance:
The dominican sumatra has a reddish color to it with some dark brown spots scattered.  This is almost the opposite when compared to the Small Batch #2 (uses the same wrapper) as the brown hues dominate the wrapper.  This cigar is toothy and has rugged appearance but there are absolutely no soft spots on it at all.  This vitola is a heavy cigar but feels consistent from the head all to the way to the foot.  The triple cap is small compared to what I'm used to seeing and very small comparing it to the size of the cigar.  It's easy to miss the first cap as it just barely covers the top of the head.
I find the bands on the Small Batch cigars are one of the more beautiful ones out there.  To me, it's simple, the colors contrast and has an elegant appearance.  Prior to the release of the Small Batch #4, I believe the only way to differentiate between the releases was based upon the size of the vitola.  However, with the darker wrapper on the Small Batch #4 it also says IV on the side.  Going back to the Small Batch #3, it has some very thick and prominent veins but these did not affect the performance or experience.
Burn/Draw:
The initial cut I made on one of them was shorter than what I liked so made another snip.  No loose tobacco falling out as a result and the cold draw was semi tight and from my experience, most likely to open up once I lit the cigar.  The burn was ever for the most part and it did get jagged once in a while and almost always corrected itself.  The draw while average, was solid and that's all I really expect from a cigar.  The smoke was velvety when streaming from the foot of the cigar but it was thick and rich.  The ash held it's own easily throughout the review with a brilliant white sprinkled with pepper, lasting close to 2 inches the first time I tested it.
Flavor/Aroma:
The aroma coming from the wrapper is delicious.  Reminds me of cedar, cinnamon, and floral notes with a sweet undertone while the foot has the same aromatic notes but they're more rich.  In the initial draw, I get some espresso, wood and white pepper.  In the first third, I'm already getting reminded as to why I enjoy this cigar.  There are some subtle notes of leather, herbal spices and a light sour dough presence.  The aroma is chocolaty mixed in with cedar and spice.  This cigar is a solid medium but I don't really notice it progressing in strength.
In the next part, there are flavors in here that you rarely experience in a cigar.  When I first reviewed it almost 2 years ago, I thought it may have been similar to lemon notes but since then it's more related to a lime flavor like key lime pie.  There are some sour cherry notes intermingled and the Litto Gomez Small Batch #3 truly makes me feel like I'm having dessert.  Dark chocolate notes do pop in once in a while which helps balance out the fruity/citrus notes.  There is nothing harsh or bitter about this cigar, the complexity is high and the strength still feels like a solid medium.  This is a good thing considering the cigars lasted close to 3 hours.  Pushing the smoke through nose, there is a tremendous amount of pepper on a full draw though I think the best way to add to the experience is with a half draw.  I noticed, the subtle notes come out and the pepper feels a bit rounded.
In the last third, I get some chocolate, some doughy notes and faint hints of the delicious lime and citrus flavors from the second part.  Leather works itself in and out though the flavors do tone down in the last 1.5 inches.  On any other cigar, this third would be very enjoyable but on this cigar, you immediately start reminiscing about how good the other sections were.  Oddly enough and perhaps on cue, my final draw was as delicious as the pinnacle reached in the second part.  Like an salvo.
Final Thoughts:
This cigar starts as a solid medium with above average complexity and progresses to a very high level of complexity while keeping the strength.  For a cigar that lasts this long, I think it allows the smoker to focus on the flavors as opposed to wondering if the strength is going to make them see double worse.
I think it's fair to say that most of LFD's fanbase smoke their cigars because of the strength as found in the DL -700 or differ..  I absolutely feel La Flor Dominicana is underrated when it comes to getting recognition for some of the most unique flavor profiles.  Many of their cigars have subtle notes that get missed because of the strength or the dominance of one flavor.  The Litto Gomez Diez Small Batch #3 easily makes sure that doesn't happen here.
The second part in this cigar is by far the most enjoyable and brilliant.  The flavors are balanced with each note alternating and performing a solo.
I'll be reviewing the Small Batch #2 within the next few days but it's hard pressed for me not to expect similar results with it.  However, from my experience, my favorite Small Batch to date has been the #3.  While the Small Batch #4 was good when it was first released, I'll see if it has improved when I review it this week.
Since the release, Litto Gomez Diez Small Batch #3 has improved.  If there were any harsh or bitter notes, they have been reduced or eliminated.  As you can see from my review of the SB #3 almost 2 years ago here, the flavors have stayed consistent.  IMO, these are smoking very well now and while I would expect improvements over the next few years, I don't know if I could say not to smoke these now as it's still quite an experience.
As for availability, some LFD accounts still have Small Batch #3 around.  As with all limited batch, high quality cigars, phone calls need to be made.  However, it will be worth it.
Rating:  94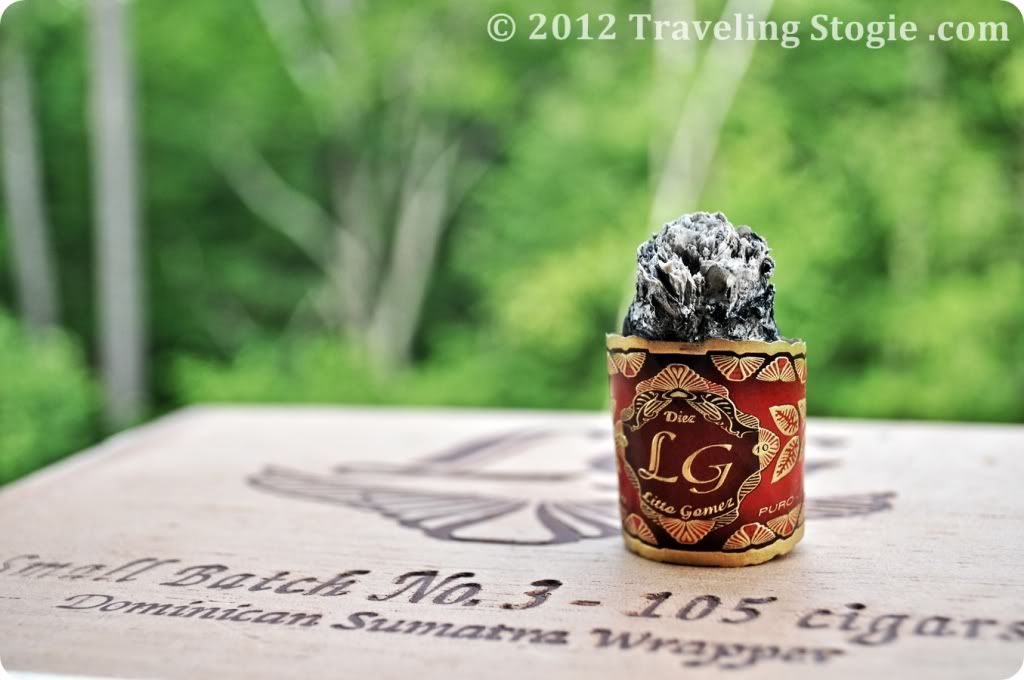 Related Links: