The Liga Privada Unico Serie Ratzilla that I smoked for this review was given out at Federal Cigar's 91st Anniversary Drew Estate Tasting Event.  In attendance from Drew Estate was Johnny Hart, Steve Saka and David Lafferty.  I only smoked one of the Ratzillas for this review but since the experience was a fairly positive one, I feel confident enough to make an accurate assessment of the cigar.
There were multiple prototypes created ranging from a cigar that was 7 x 46 to the production size that is 6 x 46.  This is a limited production cigar  and currently the place that will have these available for purchase for a one time only event is at Casa De Montecristo in Chicago on June 23, 2012.  There will be 50 bundles of 12 Ratzillas provided at the event with a cost of $15 per stick.  I believe this will be on a first come first served with BOTL.org members getting initial access to the cigars.  After that, these will be available to the general public.

5/25/2012
Liga Privada Unico Serie Ratzilla Review
Wrapper:  Stalk cut Sun grown Habano
Binder:  Brazilian Mata-Fina
Filler:  Dominican, Honduran and Nicaraguan
Size:  6 x 46
MSRP:  $15.00
Smoke Time:  1hr 35min
Days in Humidor:  60+ Days
Location:  Backyard
Drink:  Water

Construction/Appearance:  
The wrapper has rich and oily has a dark chocolate color to  it.  The Ratzilla feels firm but well packed without any soft spots at all.  There are 2 prominent veins  that trace the length of the cigar but I find these typically all the time on Liga Privada cigars and they never affect the performance of the stick.  It has the usual "rat tail" on the head similar to the Dirty Rat and they nearly identical with one being just a bit larger.  I love the bands on the Liga Privada cigars and this one is no different as it the unico serie label on it.  I'm sold on this cigar just based upon the appearance and overall construction of it.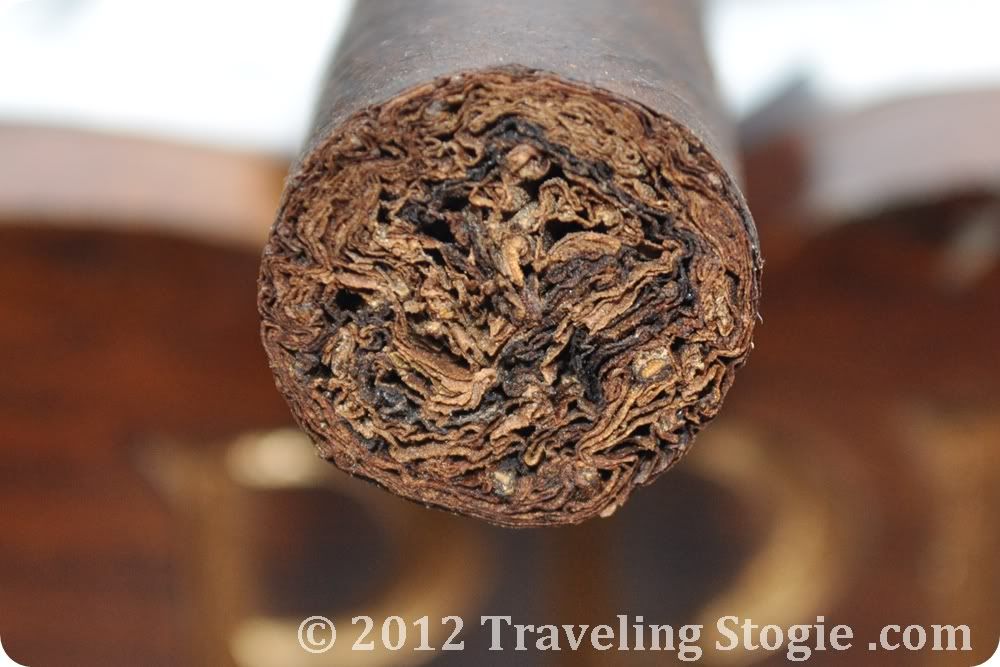 Burn/Draw:
I made a good solid cut across the head and some loose tobacco did come out but nothing major.  The cold draw was smooth but comfortable.  Even with a slight breeze outdoors lighting the cigar was easy and average.  Even though the burn started out a jagged, it corrected itself in the first third and stayed like that for the rest of the review.  The draw required some effort however I was still very pleased with it.  Needless to stay, there was a tremendous amount of smoke put by this beautiful cigar.  Oddly enough, the ash didn't want to hold on for long, always falling after 3/4 inch or so on it.  Not much of a negative but it was unlike the ashes you get from the T52 or No 9 cigars.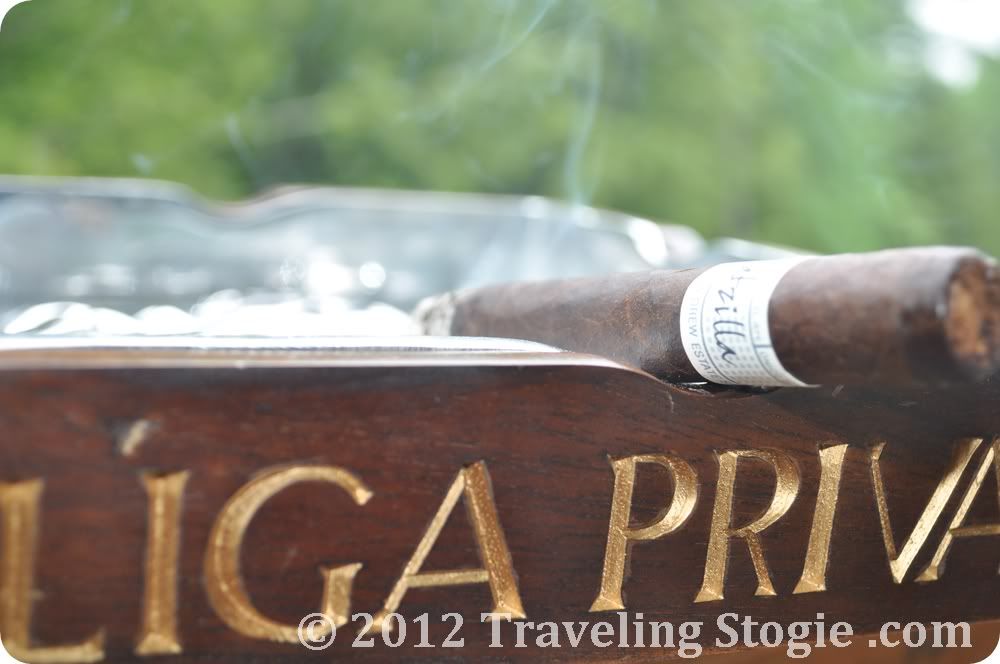 Flavor/Aroma:
The wrapper has a delicious chocolate aroma with some spice while the foot reminds me of jalapeno chocolate.  The initial draw had a medium size blast of pepper along with sweeter notes.  In the first third, I'm getting earth and peppery notes along with molasses flavors.  The flavors are good but I feel like they're playing independent of each other and not completely in unison.  The Ratzilla easily feels like a full medium though the pepper gives the impression it's stronger than that.  In  the retrohale, I received a large dose of pepper.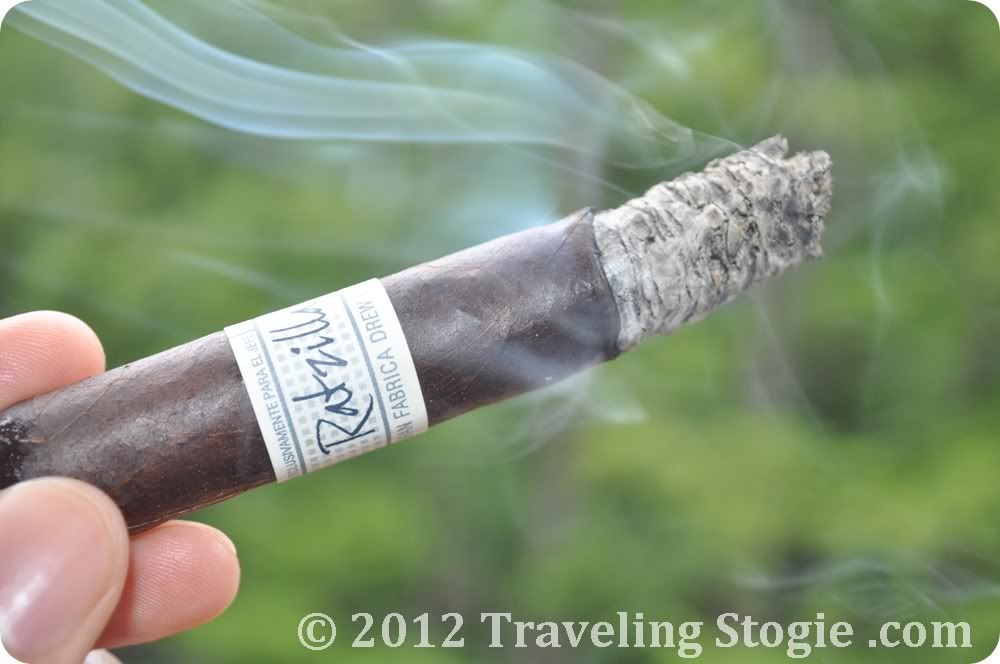 In the second third, the flavors feel more cohesive and balanced.  On almost every draw, I can taste molasses/caramel on the front followed by earthy notes and coco with underlying pepper sensations.  At this point, I feel the Ratzilla has moved from a full medium to a full though it's not overwhelming.  I can taste some small doses of cayenne pepper for brief moments.  The final third continues with the same flavors but it is consistent and well rounded.  I'm getting notes of wood and cedar as well in the last third but I find it to be very enjoyable.  There are some leathery notes in the last inch but these are sporadic as well.
Final Thoughts:
The flavors in the Ratzilla are prominent, enjoyable and consistent in the last 2 thirds to make this one of my favorite Liga Privadas.  The strength is balanced very nicely with the flavors in the cigars
The cigar gave off tremendous volumes of smoke and the construction and burn were very impressive.  I did not have to relight or apply any touchups to the cigar at any point.
As with all Liga Privada cigars, they rarely disappoint me when it comes to the flavor profile as I enjoy those chocolate, pepper, earthy notes especially how they are combined in this cigar.  There are certain times where I reach for a Liga Privada because nothing else will do.  It doesn't have the most complex cigar but really just have the flavors that I am looking for.  In my opinion, this one of the biggest reasons why they do well as the notes are rich and the construction is almost always very very good.
Is this stronger than a Dirty Rat?  Well I did follow this up with one the next day and Ratzilla may have been approaching the strength of the Dirty Rat but not quite reach it.  It's not negative or positive because unless you're smoking these back to back, it won't be noticeable.
As for purchasing these, at $15 a stick, it does make the price point high but I certainly would pick up  a five pack if possible and the key word here is available.
Final Rating:  91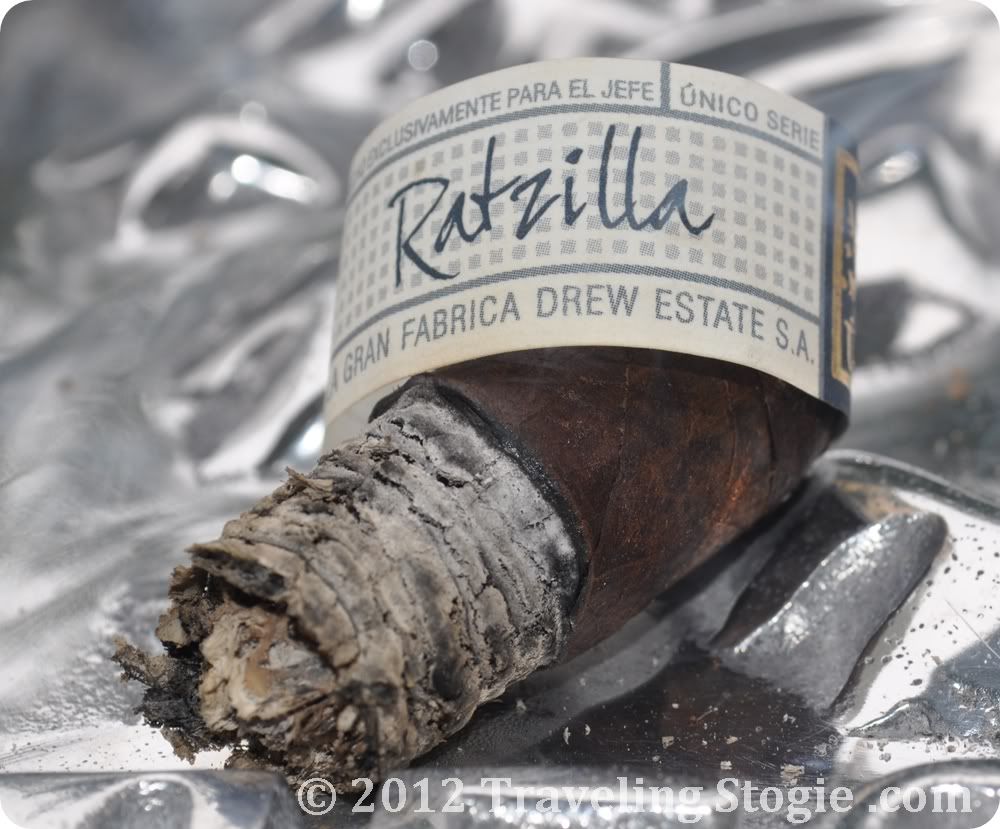 Related Links: