About a month ago, Andrew bombed with a wonderful collection of cigars. One of them, the LFD Factory Press III was on my list of smokes to try and within a week or so of receiving the package, I decided to smoke it and post a review.
Well, a thread was started today asking questions about the Factory Press II and III and it reminded me that I should get my review up and posted. So, even though I smoked this on the 23rd of January, I am posting it now.
1/23/2011
LA FLOR DOMINICANA FACTORY PRESS III
VITOLA: 6 1/4 x 58
WRAPPER: MADURO CT BROADLEAF
SMOKE TIME: 1.75 HOURS
DRINK: DIET COKE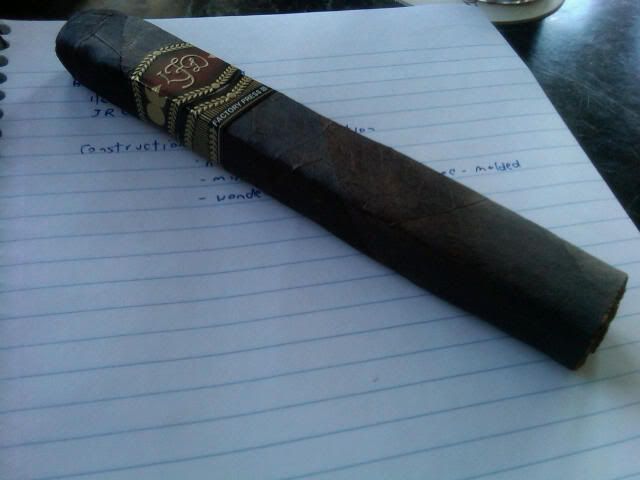 CONSTRUCTION:
The first thing that came to mind when holding the cigar in my hand, I thought, "Wow! I love the construction on this cigar!" Absolutely no rips or tears with no veins whatsoever. The cigar felt "full" as in not underfilled or containing any soft spots. This vitola felt heavy and well balanced.
APPEARANCE:
Honestly, this cigar reminded me of a thick tongue depressor. I've seen box pressed cigars and even mold-pressed, but this cigar was as square as they come. The LFD Factory Press III has a dark maduro wrapper which gives it a clean and almost impeccable look. The double banding on this cigar fits perfectly.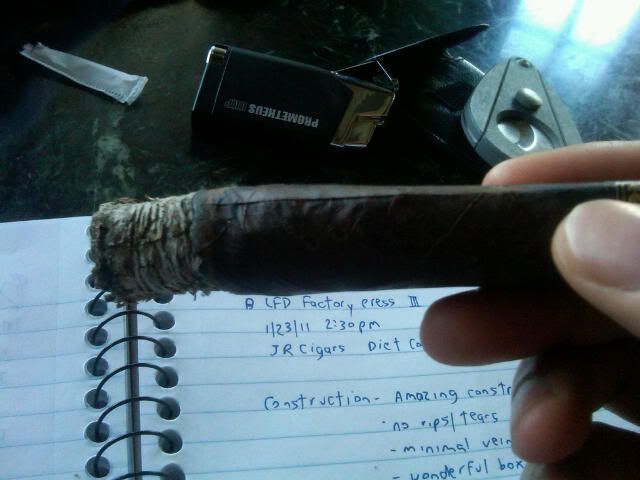 BURN:
I always find lighting cigars that have a box shaped foot a little different from circular foots. I take extra caution as a result. Throughout the smoke, I found the cigar to have a wonderful draw, never trying too hard to get a decent size amount of smoke from it. However. (Yes that was a one word sentence because this is where I list certain issues) I had burn issues the entire time smoking the cigar. I thought this could have been due to the air circulation in the building from where I was sitting.
Also, because of the mold pressed shape, the cigar bulged VERY noticeably about 1.5 from the end of the cigar while smoking. While I drew plenty of smoke from the Factory Press III, I felt this cigar would be benefit from an adjustment in storage temp/rh.
FLAVOR:
The cigar emitted pre-light aromas of aged tobacco. Other than that, I couldn't really pick up other aromas. In the first third, the Factory Press III has notes of spice which mellowed out after 1/2 inch or so. After this third, I realized the cigar doesn't have any "sweet" flavors but more of peppercorn/jalapeno characteristics.
In the 2nd third, out of the blue came notes of molasses. This was completely unexpected as you can see from my declaration from the first third. Even though "sweet" notes were dominant, spice did play a role in the background. By the time the last third came around, I didn't know what to expect. This third reminded me of coffee/mocha with some chocolate. It was very creamy and smooth. Definitely a very positive attribute.
VALUE: This cigar definitely has a place in the humidor if I can get more of them. The price of the LFD Factory Press III puts it in the wheelhouse of more "in demand" smokes such as Opus and Anejo.
RATING: 89
OVERALL:
This cigar was intriguing to smoke. Definitely a smoke with alot of potential. I certainly believe the burn issues could be corrected with a day or two of dryboxing. Would I buy more? Absolutely for the reason that it is was very complex smoke and extremely enjoyable. If this cigar burns well the next time around, I would not have a problem scoring this vitola in the low to mid 90′s.
Hope you enjoyed the review!