Any fan of Illusione cigars will most likely know that there is a story behind every vitola created by Dion Giolito.  From the '68′ which signifies his date of birth, '88′ when he moved to Reno  or even '2′ which represents the Son of God doing battle against evil, nothing was named without meaning.
 "I focused all of that energy and attention to my line of cigars "illusione." Growing up in a Gaming state my entire life, I've always been surrounded by numbers – the Craps table, Roulette, Keno. I began to see particular numbers that would show up every time I played a Keno 6-spot like 9 and 23. For Craps it was the number 4. One night at the Silver Legacy Casino in downtown Reno, I rolled Hard-4 four times in a row! Yes, I had the bet down on hard four, didn't press it though! Freakin' Crazy. The Croupier told me "you got the Call!.." meaning, the call from the man "upstairs".
I wanted to associate it with the wine country – French wine country. I called Pete when he just happened to be in Miami celebrating Pepins' birthday. He handed me off to Pepin and I wished him happy birthday. When Pete got back on the phone, I asked him what the cliché should be on the side of my box. I told him it was Cg:4 Corona Gorda….. He said Cheval Blanc "The white Horse" PERFECT I thought – Corona Gorda, the 4 horsemen of the Apocalypse, The White horse which is the Conquer, the false prophet – Revelation 6:2.
(available sizes)

'888′  "6 3/4 x 48″

~4/2g~  "7 1/2 x 49″

~f9~  "6 1/4 x 44″

~88~  "5 x 52″

~2/3~  "6 1/2 x 33″  (culebra)

~cg:4~  "5 5/8 x 48″

~mj12~  "6 x 54″

~2~  "5 1/4 x 52″

~1~  "9 1/4 x 48″

~mk~  "5 1/8 x 42″

~hl~  "7 1/2 x 40″
Illusione ~Cg4~  The White Horse
Wrapper:  Nicaraguan Cafe Colorado
Binder/Filler:  Nicaraguan
Size:  5 5/8 x 46
Vitola:  Corona Gorda
MSRP:  $7.50
Time In Humidor:  90 Days
Smoke Time:
Drink:  Water
Location:  Backyard
Construction/Appearance:  
The Cafe Colorado wrapper has a brownish appearance with some black spots scattered throughout giving it a bit of a mottled look.  The wrapper looks reddish depending on how the sun is reflecting off of it.  The Cg4 has a great feel to it without any soft spots or prominent veins.  They're really subtle and almost smooth to the touch  going to the triple cap that is as seamless as I've seen.  The cigar feels solid in my hand, actually just right.
While the band is simple, I think it's done nicely.  I've come across plenty of bands that could do with less color or extravagance.  In this situation, there is a perfect balance between the band and the cigar, neither taking away from each other.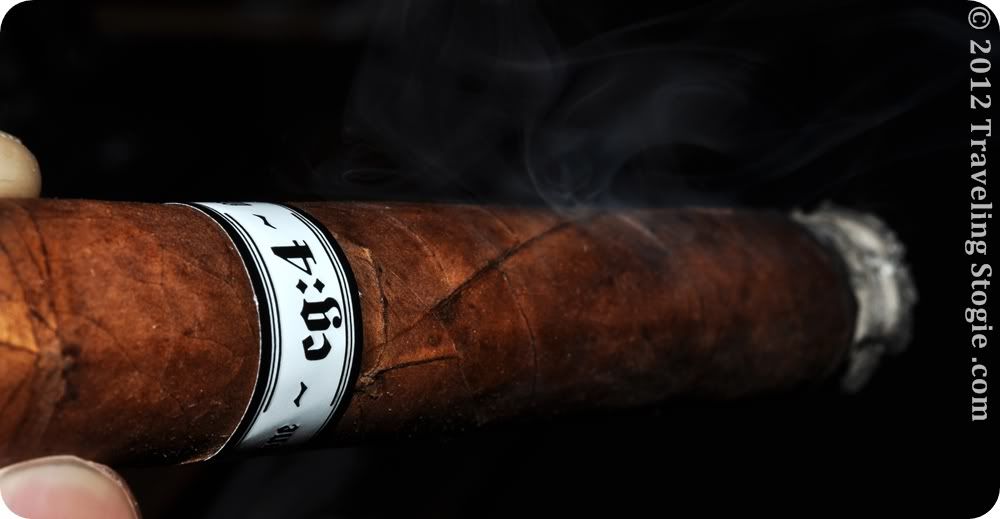 Burn/Draw:
As with the "Bombone" cigar, this also had a very clean cut across the head with no evidence of any loose tobacco.  The cold draw feels pretty good with just enough resistance I like especially for a corona gorda.  Lighting the cigar is easy as the foot readily accepted the flame.    The burn was very even from the beginning to the end on both cigars, impressive indeed.
The cold draw was a great representation of the draw as it was smooth to the end.  The Cg4 put out a good deal of smoke which increased tremendously on double draws.  The salt and pepper ash held together well not showing any signs of being flaky, lasting over an inch.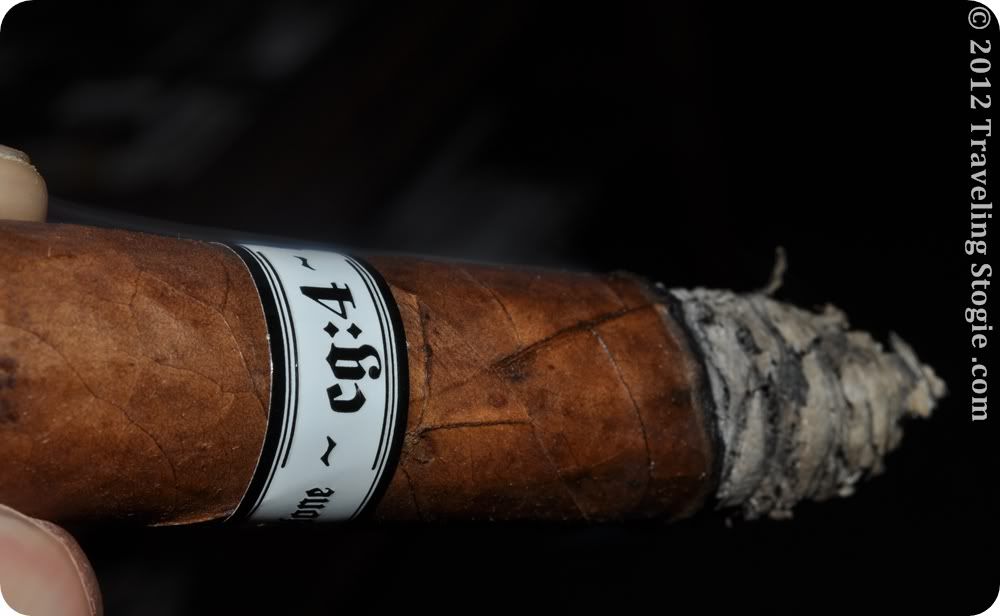 Flavor/Aroma:
The aroma from this cigar isn't nearly as strong as it was with the 68 Bombone.  The wrapper does remind me of cedar and caramel but it's very subtle.  The foot has hints of cocoa and wood, not very robust.  On the initial draw, I get some herbal spices on the front with some very nice sweet notes in background.  It has a balanced combo of sweet and spice.  The first third introduces earth and pepper that lingers for a while.  I'm tasting some hazelnut periodically which makes this cigar enjoyable and tasty.  The strength is floating above a solid medium but not overwhelming at all.  On the backend of the first third, the flavors become a bit rounded.
As I entered the second third, I notice some tart notes which introduces another spectrum to the cigar.  I still get a good amount of earthiness with the finish becoming long with spice.  The last third still has that tart flavor on the front but the earth and spice are mixed in nicely.  The last inch gives me notes of cedar and wood.  This cigar finishes as a strong medium in strength and above average in complexity.
Final Thoughts:
I find Illusione cigars enjoyable and unique in flavor profiles.  While they may be considered full in terms of strength, I think newer smokers can find them as a good introductory smoke to stronger cigars while maintaining a high degree of complexity for veteran smokers.
The construction was top notch and I didn't have to worry about the burn or draw at all.  This goes a long way towards enjoying a quality cigar such as the Cg4.
This cigar offers a wide array of flavors mixed in at various times throughout the smoke.  After smoking the first third of the cigar, I feel the Cg4 shines in the second third.  The profile comes together very well.
At $7.50 a stick, I think this cigar is priced very well.  I like the corona gorda vitola and would keep 10-15 of these in my inventory as a go to smoke.
If you're interested in purchasing this cigar, Blowin Smoke can be reached at 603-472-5878.  Let them know Traveling Stogie sent you!
Rating:  91
Related Links: