Any fan of Illusione cigars will most likely know that there is a story behind every vitola created by Dion Giolito.  From the '68′ which signifies his date of birth, '88′ when he moved to Reno  or even '2′ which represents the Son of God doing battle against evil, nothing was named without meaning.
~68~ Bombone
This was the year I was born hence, the smallest cigar in my line. It was also an homage to Paul Garmirian – BIG influence in my career as a Tobacconist along with Zino Davidoff. 68 is also a "happy" number.
(available sizes)
'888′  "6 3/4 x 48″
~4/2g~  "7 1/2 x 49″
~f9~  "6 1/4 x 44″
~88~  "5 x 52″

~2/3~  "6 1/2 x 33″  (culebra)

~cg:4~  "5 5/8 x 48″

~mj12~  "6 x 54″

~2~  "5 1/4 x 52″

~1~  "9 1/4 x 48″

~mk~  "5 1/8 x 42″

~hl~  "7 1/2 x 40″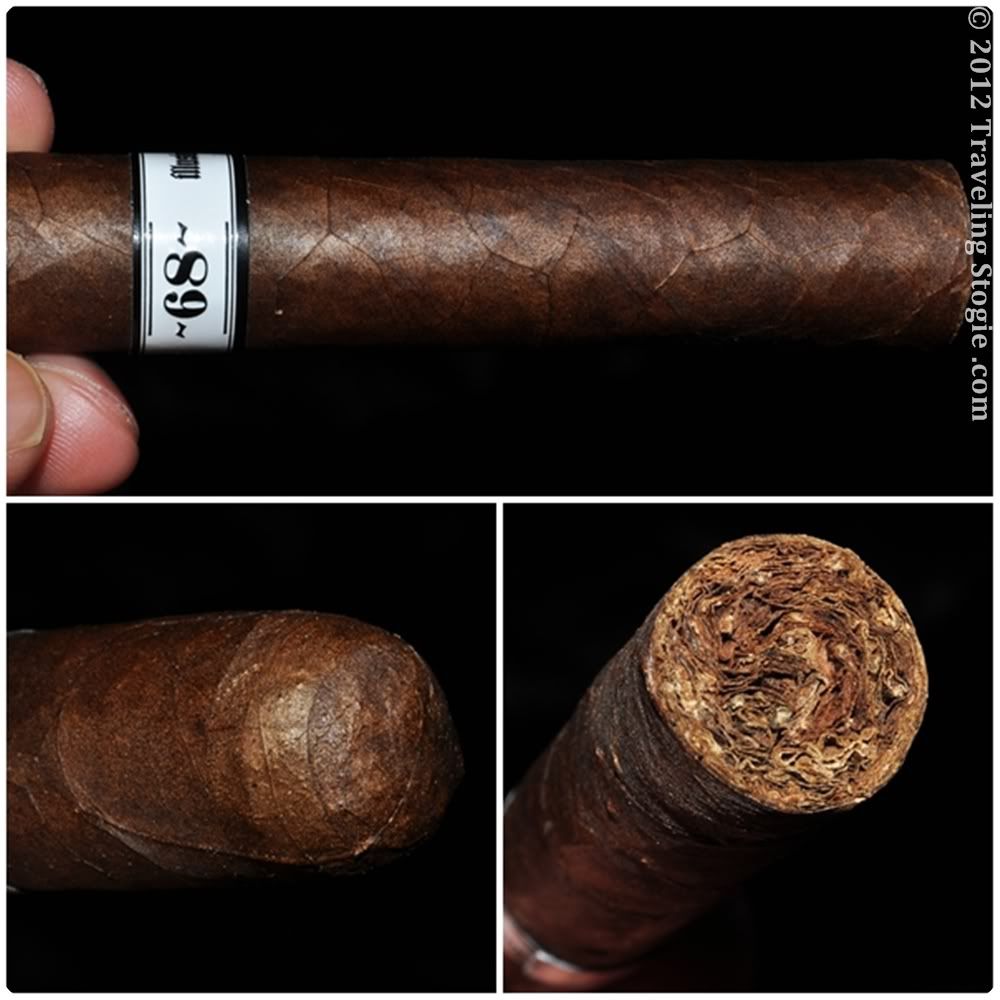 Illusione ~68~ Bombone
Wrapper:  Nicaraguan  (Cafe Colorado)
Binder/Filler:  Nicaraguan (Corojo '99, Criollo '98)
Size:  4 x 44
Vitola:  Petit Corona
MSRP:  $5.50
Time In Humidor:  90 Days
Smoke Time:  1hr 15min
Drink:  Water
Construction/Appearance:
The wrapper has a beautiful rich chocolate color with shades of black mixed in throughout the cigar.  The veins are thick and extremely prominent on the wrapper.  There's virtually no compression when squeezed without any soft spots as well.  The cigar essentially appears to be rolled consistently from the triple cap on the head to the foot with a good amount of weight considering the size.  As with most Illusione cigars, I do love the white band with a black border and font.  To me, it looks simple yet has a crisp and sharp appearance.

Burn/Draw:
The cut was very clean across the head and the cold draw felt full with some effort behind it.  The draw was not airy or loose by any means which is a positive sign for a cigar this small.  Lighting this cigar was very easy since it's small and can easily rotate in my hand while toasting it.  The burn was fairly even and not requiring a touchup.  I did enjoy the smoke as it had a creamy texture when exhaling.  The ash held on for almost an inch and was quite firm.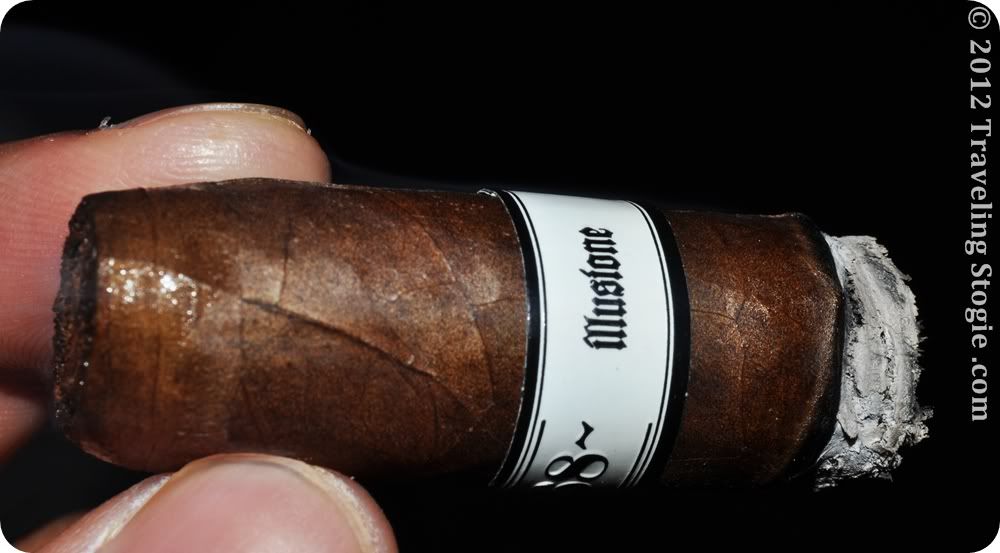 Flavor/Aroma:
The wrapper  has some sweet mocha and cedar notes while the foot displays a rich chocolaty aroma.  In the initial few draws, I get strong notes of earth, sweet undertones and a small blast of pepper.  This fades after a couple of draws as I enter the first third.  The flavors feel robust to me in the first part and I get earth, nuts with a sweet cherry flavor.  It's not a smooth cherry note but rather distinct and sharp.  The Illusione 68 is coming off like a full bodied cigar and with a medium amount of strength but steadily increasing.
Entering the 2nd part, the earthy notes mellow out a bit but that distinct cherry flavor is still there.  It's like you get a mix of cherry and nuts in a well balanced but enjoyable profile.  The finish is a mix of earth and peppery notes and lingers for a while.  The strength does pick up and I'd say it's a strong medium if not full already.  The last third has a quality mix of coffee, cedar and that slight cherry flavor is there but becoming a bit syrupy almost reminding me of caramel.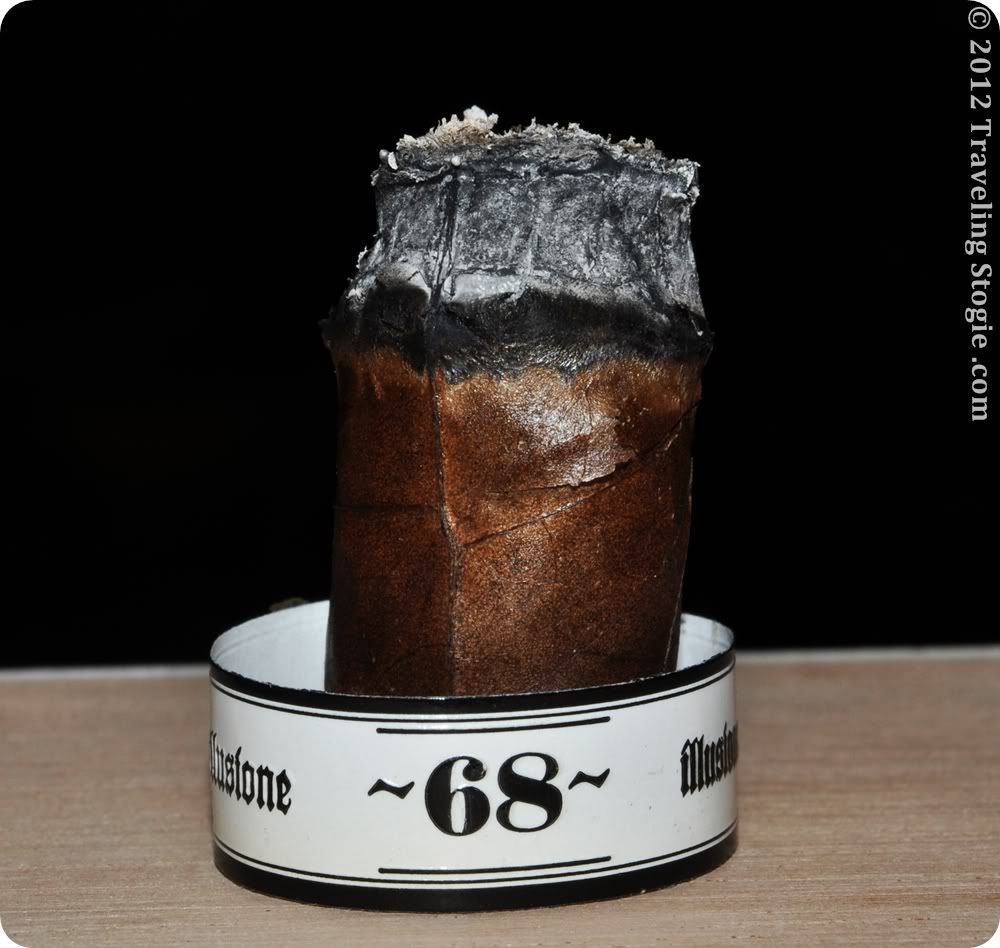 Final Thoughts:
I was impressed with the construction, burn and the draw especially for a cigar in the $5 dollar price range.  However, this cigar shines with the unique and complex flavor profile.
I'll usually pick out a specific third of the cigar and crown that section as the cigar's shining moment. In this case, I feel the first two parts of the cigar were really flavorful and enjoyable.  While I don't think the cigar was tremendously complex, there wasn't any specific "letdown".  The cherry note is a brilliant flavor in this cigar.  The Illusione 68 is a quality and easily above average smoke at any given point.
Illusione cigars tend to fly under the radar especially when I speak with fellow cigar smokers.  It could be because of the price point, visibility or the types of flavors in the cigars, but any way you look at it, I feel they're a good, solid cigar.
At the $5 + price point, I would buy a ten pack or so just to keep in my rotation of short to medium smokes.  I think it offers a unique profile that isn't matched in that category nor in my rotation of favorite cigars.
Aging these cigars up to a few years may help develop the profile but I find them very enjoyable with just a few months on them.
If you're interested in purchasing this cigar, it's available at Blowin Smoke (603)-472-5878.
Rating:  90
Related Links: