I met Gary probably a year ago when I was search of some specific cigars. Well, he hasn't missed a beat from day one treating me as one of his good friends. He runs Cigar-ette City down in Delaware which has plenty of locations and you can see how passionate he is about cigars once you start speaking with him. If you ever get the chance, visit his main location in Peoples Plaza and maybe you'll come across Gary and he'll share his stories.
From Emilio Cigar Website:
Our AF2 blend, produced and blended by A.J. Fernandez is certain to delight. Crafted from rich Nicaraguan fillers combined with the strength of Pennsylvania ligero and a beautiful Ecuadoran Habano Oscuro wrapper. These cigars are available in cabinet boxes of 20 in four sizes: Robusto, Toro, Torpedo, and BMF.
Emilio Cigar AF2 Toro Review
Wrapper: Ecuadorian Habano Oscuro
Binder/Filler: Nicaraguan/Pennsylvania Ligero
Size: 6 x 50
Vitola: Toro
MSRP: $7.00
Smoke Time: 1hr 45min
Construction/Appearance:
One look at the AF2, you can immediately tell that it is a well rolled cigar as it feels well packed with very little give when going through the squeeze test. The AF2 is of solid construction and any veins while visible can barely be felt in some places. The wrapper has a nice rich oily presence which was emphasized even more so due to the wrapper being oscuro as well. I love the appearance of the bronze band with black lettering because even though it is simple, the band has a nice appeal. While smoking the cigar, the band came off so easily I need to make a mention of this in the review. I'm sure we've all experienced removing bands that take parts of the wrapper along with it and this has happened on super premium cigar to every day smokes so it seems price doesn't play as strong a role as I thought it should.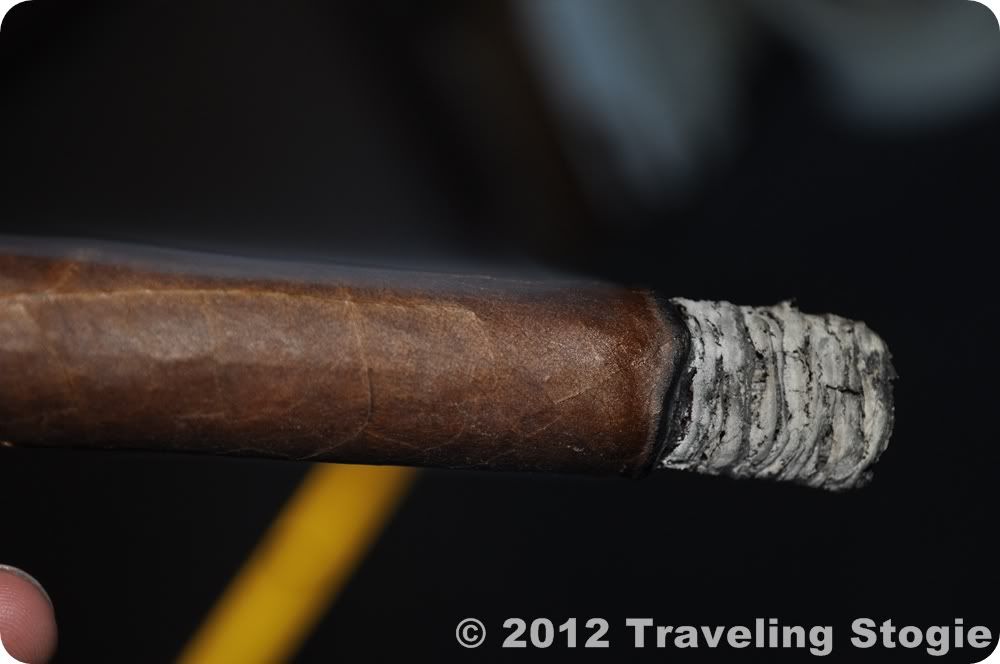 Burn/Draw:
I made a very clean cut across the head and avoided any issues with loose tobacco. Occasionally, the cap may unravel if the cut isn't sharp or the cap isn't on well enough, both of which were absolutely no issues. I took a prelight draw and found it to be very smooth, inviting and actually excited me about smoking the cigar. Lighting the cigar went without a hitch and a steady stream of smoke came off of the foot. The initial amount of smoke reminded me of a Liga Privada as did the sharp even burn throughout the experience. The ash lasted for about 1.5 inches and didn't break apart when it landed in the ash tray which goes to compliment the construction. Overall, I have to commend the cigar for the volumes of smoke, the great draw and near perfect burn as it all contributed to a very good experience.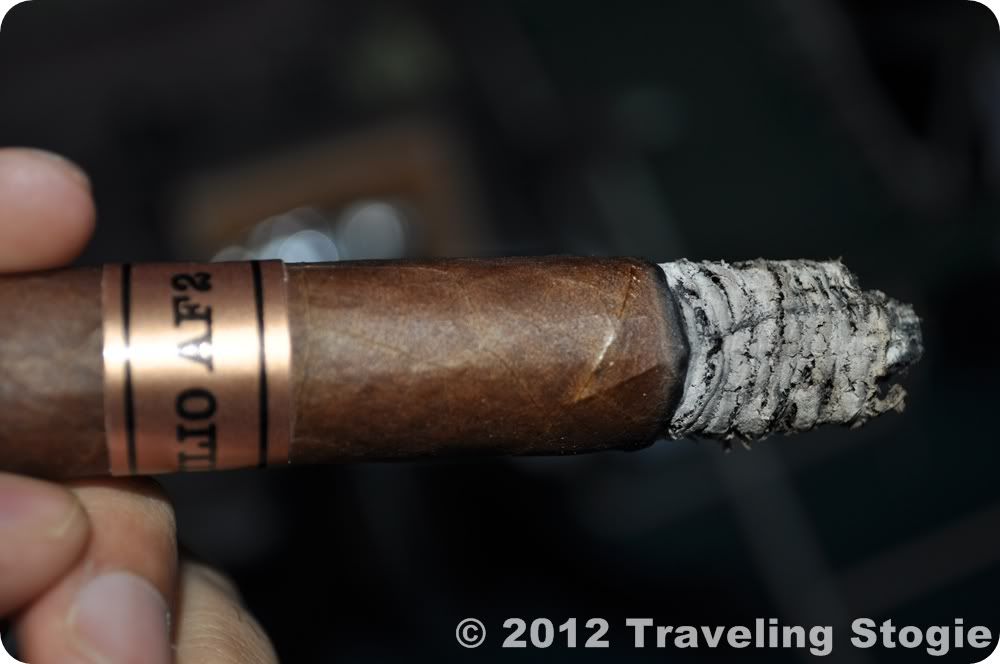 Flavor/Aroma:
The prelight aroma was very light and reminded me of sweet tobacco. The initial draw was of earthy notes and maybe even some black coffee. Continuing into the 1st part was some earthiness and dark chocolate with a black pepper finish. Up to this point, the AF2 has a nice mix of flavors that balance each other out. There was some unique salty flavors in the 1st part and I would consider the cigar to be medium bodied at this point. The second third continues with roasted nuts, earthiness, and coco with interchange with one another depending on your draw. I'm really enjoying the variety and I'm finding the roasted nuts finish to be pleasant. The Emilio Cigar AF2 just has a unique way of presenting the flavors to your palette.
Continuing into the final third, I am greeted by some roasted nuts again but also some toasted marshmellows. If you ever went camping and sat around a wood burning fire while with a marshmellow on the end of the stick, you know exactly what i mean. In the retrohale is plenty of pepper and strength with a bit of sweetness, something similar to caramel. The last one and a half inches are dominated with black pepper and earthiness and the AF2 certainly feels more than full bodied at this point in the smoke. I am loving every minute with the cigar.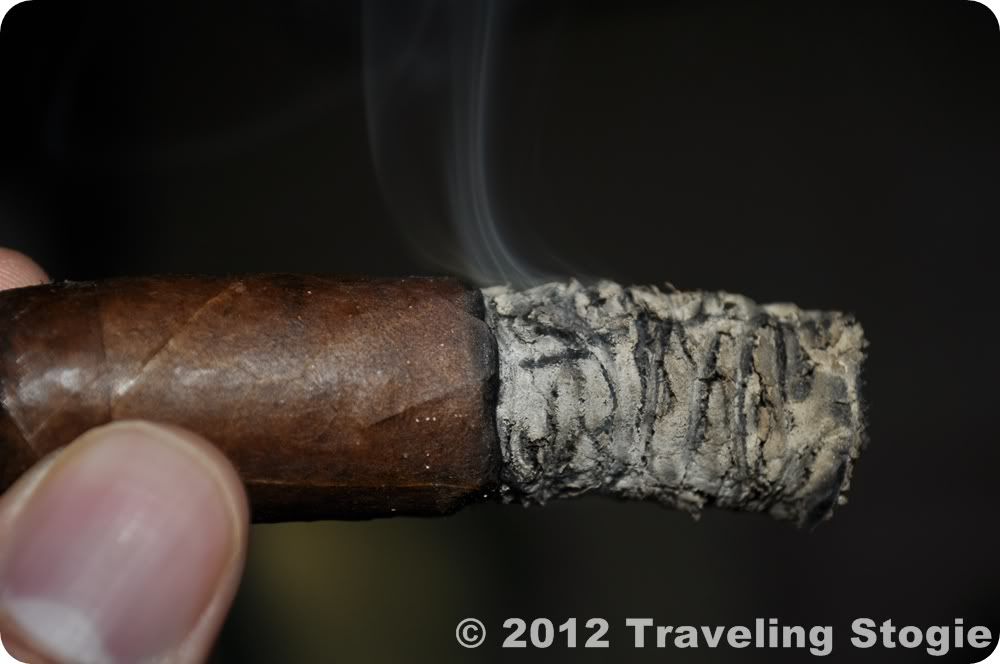 Final Thoughts:
The Emilio Cigar AF2 (and all Emilio Cigar lines) have a wonderful pricepoint to try a unique cigar
Great construction/burn/draw throughout the entire cigar
Experienced smokers may get more enjoyment with the subtle and not so subtle flavors
I would easily purchase a five pack and seriously consider a box purchase for these
Rating: 91
Please check out some of these other links!
K.A. Kendall's 7-20-4 Corona Review
Arturo Fuente Opus X Forbidden X "13″ Nacimiento 1912 Review
La Flor Dominicana Double Claro (First Impression) Review