Excerpt from the press release:
The signature size and inspiration for the INCH name is the No. 64, which measures 1 inch in diameter.  The thickness of these smokes will be highlighted by the cigar band, which modeled after an antique ruler.

The INCH Series will come in both Natural (Ecuador Sumatra) and Maduro (Connecticut Broadleaf).  The binder is from Nicaraguan, and the filler has three leaves from the Dominican Republic (a mix of Dominican Piloto Cubano, Corjo and Criollo '98) and some Nicaraguan Viso.  The INCH Series will be a regular production line, but due to the limited availability of the filler leaves in the blend, E.P. Carrillo will only be producing around 100k-125k cigars in 2012.

The INCH Series will come in 3 sizes with ring gauges of 60 and up:

No. 60  "5 7/8 x 60″  $8.75

No. 62 "5 x 62″  $7.75

No. 64 "6 1/8 x 64″  $10.00

 
Picking up the INCH No. 64 Natural, all I could think of was that this is one BIG cigar.  This specific vitola measures one inch in diameter hence and makes it the largest ring gauge cigar that I have reviewed to date.  Prior to that, I reviewed the Fuente Fuente Opus X BBMF Natural which has a ring gauge of 64 in it's largest section but tapers down to a more typical size.  For cigars that I haven't reviewed, the Drew Estate EGG has the largest RG at 70 but also tapers down to a very smokeable 42 RG.  The INCH No. 64 however, is a full one inch until you get to the head where it's slightly rounded, but barely.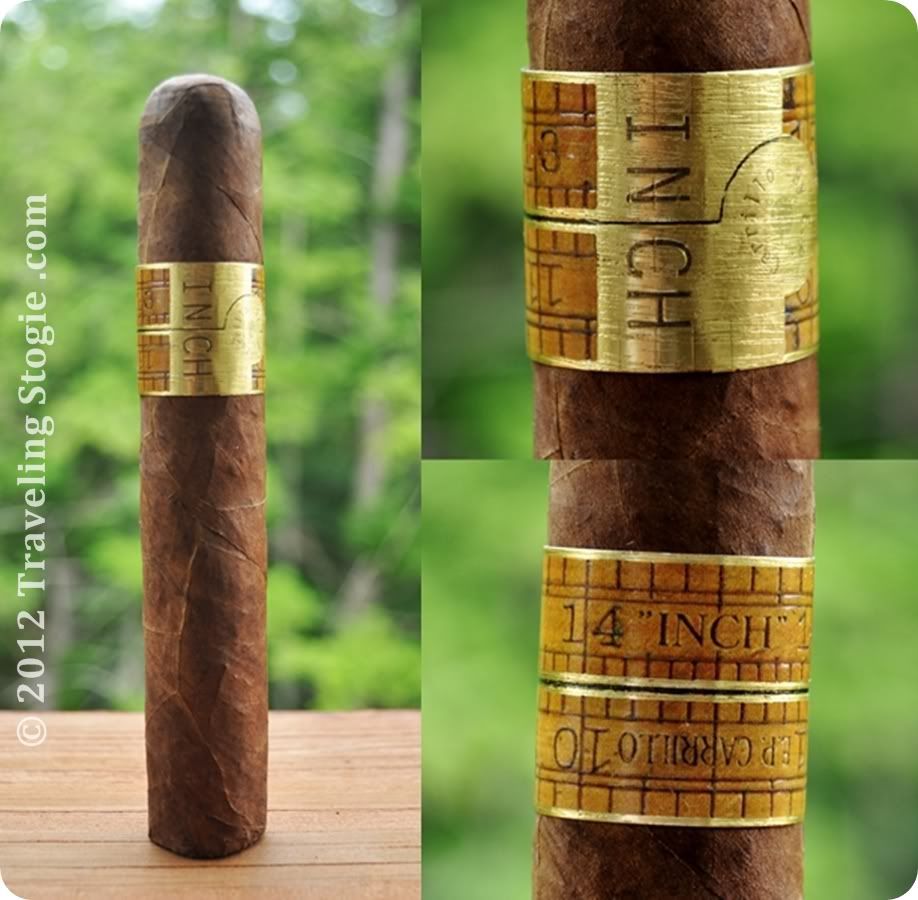 E.P. Carrillo INCH No. 64 Natural 
Wrapper:  Ecuadorian Sumatra
Binder:  Dominican Piloto Cubana, Corojo, Criollo '98
Filler:  Nicaraguan Viso
Size:  6 1/8 x 64
Vitola:  Toro Gordo
MSRP:  $10.00
Time In Humidor:  1 week
Smoke Time: 1hr 40 min
Drink:  Water
Location:  Backyard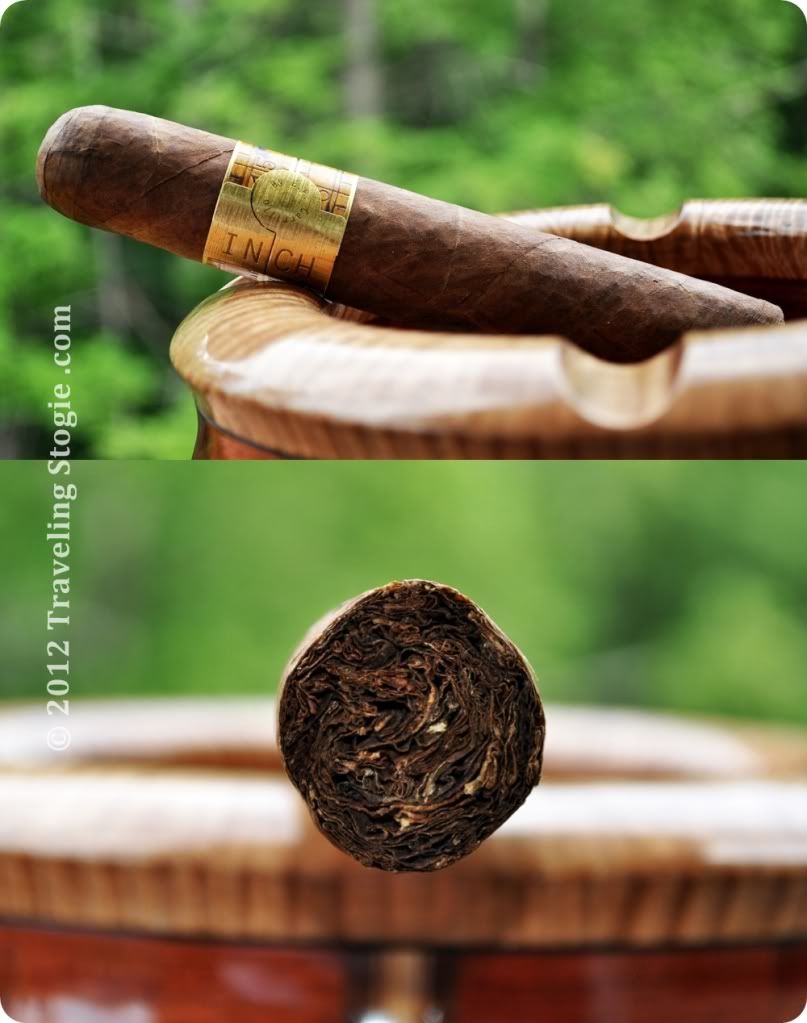 Construction/Appearance:
The E.P. Carrillo INCH No. 64 Natural has a soft feel when squeezed with semi prominent veins.  They are sporadic while the triple cap on the head looks very good.  I'm loving the reddish brown hue on the wrapper especially with the sunlight reflecting off of it.  The cigar has some solid weight though this wasn't too surprising given the size.  In fact, I'd call it average in terms of weight when comparing it to other similar sized cigars.
The band is reminiscent of an antique ruler and personally, I think it's a good marketing decision.  E.P. Carrillo is making a very large ring gauge cigar so they might as well embrace it with a beautiful band that represents the size to match.  As a whole, the cigar looks appealing and the construction seems to be solid.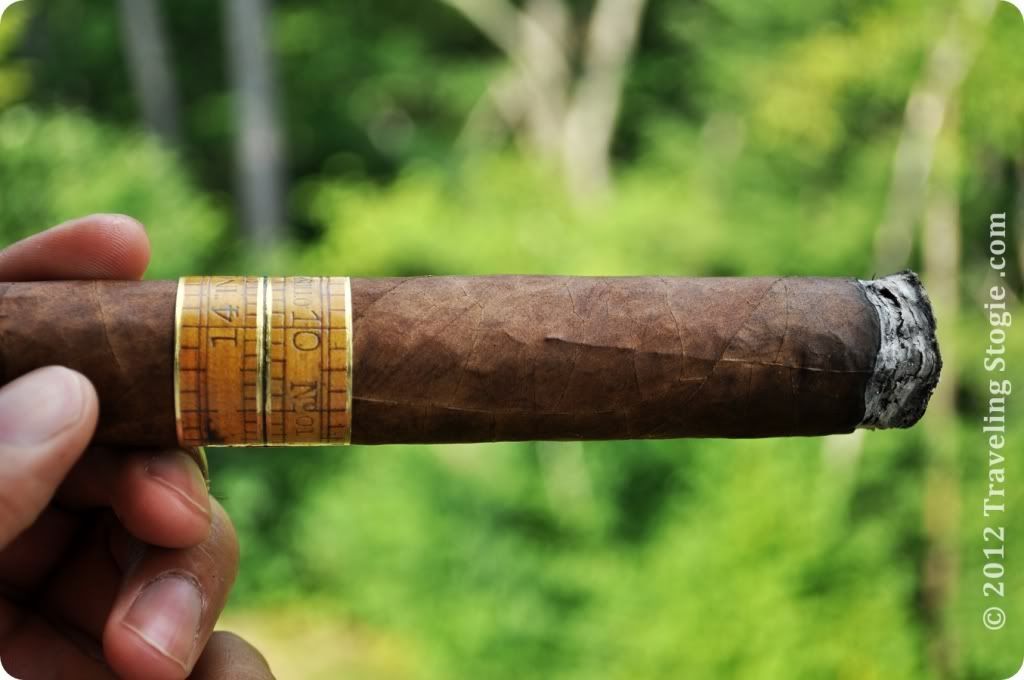 Burn/Draw:
The cut across the head was slightly jagged which I can probably attribute this to the size of the cigar.  The cold draw was fast and easy, I guess something that I should have expected in the INCH No. 64.  I found the burn to be decent at times, become wavy and even jagged but usually correcting itself quickly which is a plus.
The draw on the cigar was very open and I think that in itself was a life saver because my jaw was fatigued after only 20 minutes of smoking the cigar.  I can only image what it would have been like if it required tremendous effort to smoke the INCH No. 64.  Big plus here even though I'm not a fan of extremely effortless draws.
Moving on to some more positives, this cigar gave off volumes of smoke throughout the review, not to the extent of a Liga Privada or Undercrown, but a good amount.  Lastly, the ash has to be one of the best that I've seen on a cigar this year.  It was almost a pure white holding for 2 + inches and didn't disintegrate upon impact when ashed.  There was some flakiness to the ash but nothing extreme.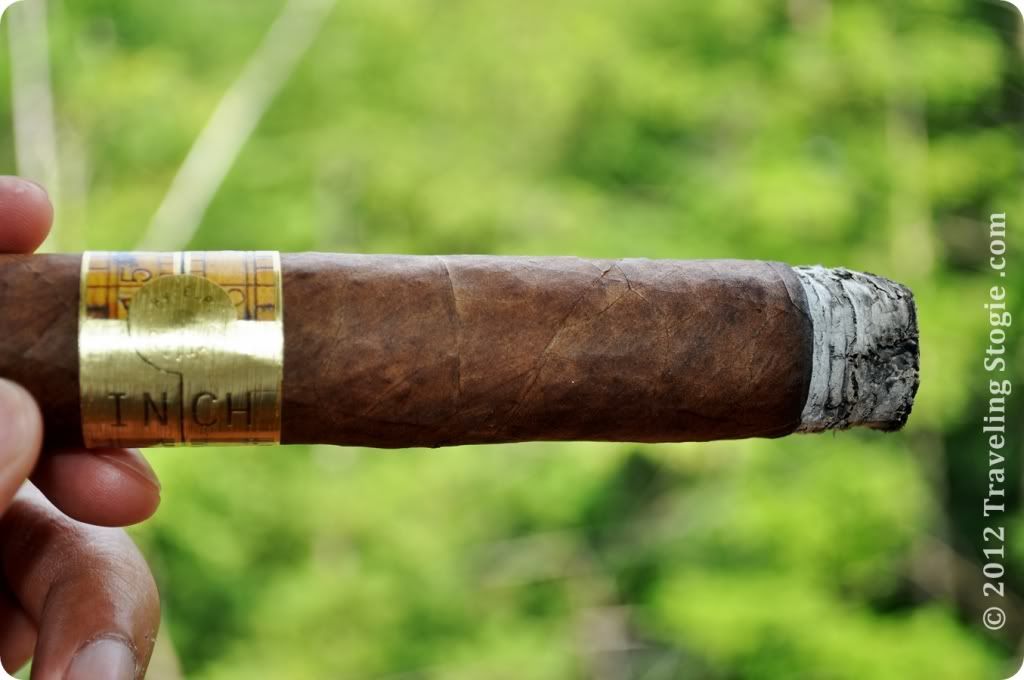 Flavor/Aroma:
The first thing I noticed when smelling the wrapper is that there were various and subtle sweet notes.  Definitely more of a fruity aroma than sweet spice but I found it inviting.  The foot gave off several notes of cocoa, cedar and cinnamon.  I found the cold draw to be chocolaty reminding me of Chocolate Chex.  Once lit, the initial draw was of cocoa and spice with pepper lingering on the lips.  Lighter than a Pepin cigar, but just enough to let you know it was there.
The first third had similar notes of pepper and wood complimented by sweet undertones.  There is some bite in this third which I actually didn't expect.  About an inch into the cigar, I get some prominent nutty flavors.  I have to say, this cigar is holding my attention and would say it's a solid medium in strength with a variety of flavors.
In the second third, nuts and wood seem to be the main flavors along with a peppery finish that lingers for a while.  Uniquely enough, I get a tart flavor on multiple draws and found this to be delicious.  This cigar is slowly moving up to the strength ladder but it's more of a strong medium than a full.  In the last third, cocoa and cedar join the mix again and I'm not getting as much tart notes but the cigar still has a good variety of flavors.  I don't think this cigar makes out to be a full bodied cigar but it comes close.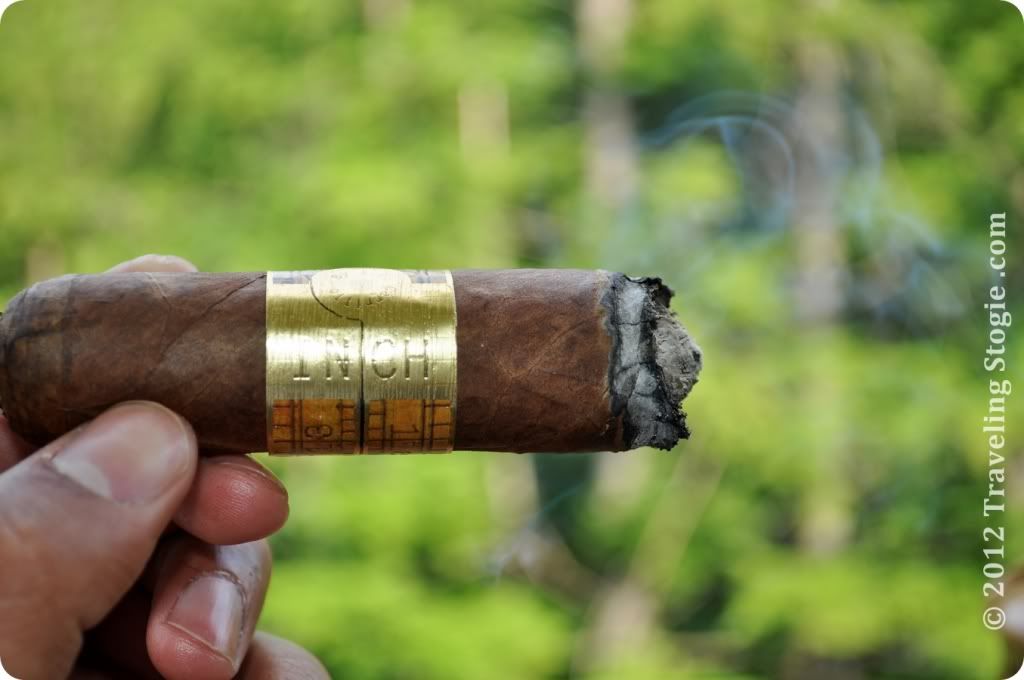 Final Thoughts:
This is a cigar that I feel has a good solid body with flavors that keep your attention.  The notes will vary throughout the smoke and provide enough of a unique experience to satisfy you.  The flavors are rich, plentiful and at times, captivating.
The construction is absolutely solid with an appearance to match. I think the band is simple, yet conveys what this cigar is all about referencing the antique ruler.  This cigar isn't trying to prance like a corona gorda or even just a toro.  To me, it says "I'm a large ring gauge cigar, here I am."
The burn corrected itself on more than one occasion and the draw was probably how it should be for this vitola even though that (draw) wasn't my preference. This cigar an absolutely impressive ash which is a testament to the construction.
With a smoke time of 1hr 40 minutes, I feel you do get your money's worth on this cigar.  Ten dollars may be on the upper end for their budget, but the two smaller versions go for $8.75 and $7.75.
Pretty good flavor profile, solid construction, good burn, fantastic ash, matching draw.  So what's not to like about it?  Well, my jaw hurt during the review because quite simply, it's a very very large ring gauge cigar.  I most likely will not be buying these for a daily smoke or even once in a while because of the fore mentioned reason.  However, these were made for a specific market and without a doubt, if they're looking for a flavorful cigar, this is a must try cigar.
Related Links: