The Don Pepin Garcia Blue Label Firecracker was made for Two Guys Smoke Shop in New Hampshire.  The store, founded in 1985, was named after the two brothers Dave and John Garofalo.  Two Guys Smoke Shop initially operated 3 store locations in Massachusetts but decided to move operations across the border to the "Live Free or Die" state New Hampshire. This was due to Massachusetts adding their first tax to cigars back in 1996 and many subsequent ones over the past decade and half.  Since the move, Two Guys Smoke Shop has opened stores in three different locations.  Dave Garofalo is extremely knowledgeable about cigars and even runs The Cigar Authority which hosts cigar manufacturers, cigar reps and asks questions that matter.
The Don Pepin Garcia Firecracker was first produced for Two Guys Smoke Shop approximately five years ago (2007).  While many people have not heard of this release, the ones that have, thought it was a one time release.  Speaking with Ed from Two Guys Smoke Shop, "We get about a couple hundred boxes per order".  The Firecracker is made exclusively for them on an annual basis depending on supply and demand.  Incidentally, just last year, Tatuaje Cigars made the M-80 for them as well which was a one time release and sold out within days.
From their website:
This is the latest and greatest to date from the hottest cigar maker in the world, Don Pepin Garcia. Pepin takes the power and popularity of the Blue Label and compresses it into an explosive new cigar aptly named The Firecracker. Strap yourself in boys, this takes you to a place you've never been before. The hottest little cigar since the short story – and we've got the in-stock now.

(Blue Label is currently available in the following sizes)

Exclusivo  "9 1/4 x 48″  $9.50
Magnate  "7 5/8 x 49″  $9.25
Delicas  "7 x 50″  $8.85

Imperiales  "6 1/8 x 52″  $8.75

Generoso  "6 x 50″  $8.25

Exquisitos  "5 5/8 x 46″  $7.25

Preferidos  "5 1/8 x 42″  $7.75

Invictos  "5 x 50″  $8.00

Demitasse "4 1/2 x 32″  $4.67

Fundadores  "7 1/2 x 38″  $9.50

Lancero  "6 7/8 x 42″  $11.00

Firecracker  "3 x 50″  $5.00

Toro Gordo  "6 x 56″  $8.50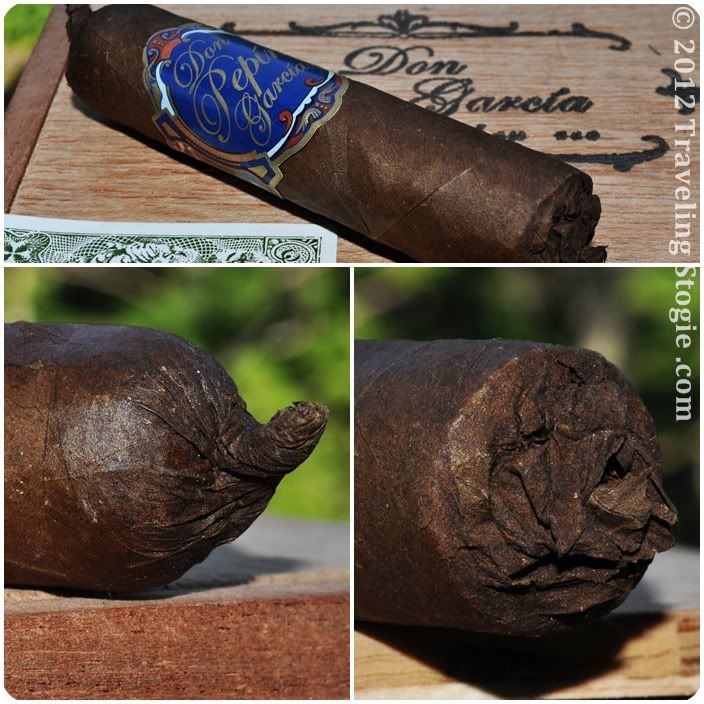 Don Pepin Garcia Blue Label Firecracker
Wrapper:  Nicaraguan Corojo Oscuro
Binder:  Nicaraguan Criollo
Filler:  Nicaraguan Criollo/Corojo
Size:  3 x 50
MRSP:  $5.00 ($99 for box of 25)
Time In Humidor:  450 Days
Smoke Time:  35 Min
Drink:  Water
Location:  Backyard
Construction/Appearance:
The Don Pepin Garcia Blue Label Firecracker comes in a compact box measuring 4.5″ x 4.5″ x 5″ and on every side of the box except the back and bottom, it says "Don Pepin Garcia Firecracker".  I find the box to be simple but perfect.  You certainly won't be confusing it with the My Father Limited Edition 2010 or Jaime Garcia Reserva Especial Limited Edition 2011.  There are twenty five "firecrackers" in the box all standing up with the pigtails.  Incidentally, during handling, some of the pigtails partially fell off which isn't a big deal to me.  The cigar measured 3 1/4 in length and not the 3 inches as it is stated but this is definitely a benefit and you'll find this once you light the vitola.
The wrapper has a rich chocolaty color and is fairly toothy, both contributing to the "firecracker" appearance rather well.  It has the typical Blue Label band on it which almost covers a third to a half of the cigar.  It is certainly rolled nicely and I don't see any tears or holes on either of the cigars for the review.   I know the Don Pepin Garcia Blue Label Firecracker is only three inches long, but it's crazy to feel how light it is in my hand.  So, to sum it up, solid construction, a beautiful closed foot and a pigtail, what's there not to like about it?
Burn/Draw: 
The cut was very easy which led me to believe I made the cuts right on the edge of the cap was put on.  The cold draw was open and for the size of the cigar, I had hoped it would have been a bit tighter.  Lighting the cigar was easy aided by the extra tobacco hanging off of the foot (closed foot).  I was impressed with the burn, rarely wavering and not requiring an actual touch up.  The cold draw that I had early didn't provide any issues as the draw was spot on and smooth.  Just like a firecracker, there was plenty of smoke coming from this small vitola. Lastly, the mostly white ash held on for over an inch even with some strong gusts coming through.  The construction on this cigar is very close to impeccable.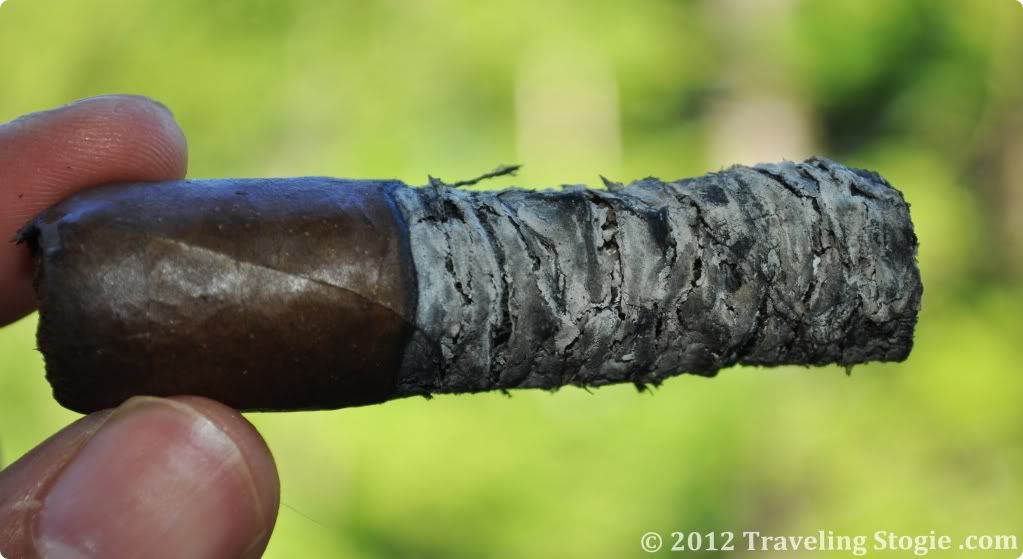 Flavor/Aroma:
The wrapper gives off faint notes of cedar and the foot has the same aroma with some pepper.  I probably would have been able to pick up more notes if the cigar didn't have a closed foot.  In the initial draw, I welcomed with strong doses of pepper but I do notice a mix of cocoa and a deep rich earthiness.  After the first 1/4 inch, the flavors smooth out but the cocoa and pepper is fairly evident in every draw.  The cocoa actually lingers on the palate long enough to take much of the focus away from the pepper.  I also notice some woody notes that transition into cedar later on.
Entering the second half (1.5 inch mark), I briefly picked up some maple notes but this disappears quickly as they came.  Black pepper ramps up as I also taste subtle notes of cedar and herbal spices.  You might say this is a strong cigar but it ends so quickly that I don't think it leaves quite an impact.
Final Thoughts:
The presentation is low key but wonderful and the construction of the cigar was nothing less than very good.  Any prelight worries that I had disappeared once I smoked the Firecracker.
Is this the best representation of the Blue Label line?  Probably not. I think the length may not let the cigar fully develop before you start reaching the 2nd half which is already at 1.5 left in the cigar.  Not all of the flavors that you get in the larger vitolas are present in this one.  If you haven't tried the Blue Label, you definitely missing out as it is a very enjoyable line.  But, this cigar is easily in my rotation of 30 – 40 minute smokes.
I didn't feel this was a complex cigar nor did I expect it to be.  At 3 inches in length, I would find it very hard to pick up variety of flavors  unless you're absolutely concentrating on it.  There are a few dominant flavors with the remaining notes rotating around them.  I see the Firecracker flavorful enough to keep me interested for the duration of the smoke.
I smoke very slowly and even then, I was initially worried as my first couple draws burned through maybe 1/2 an inch.  I thought this cigar was going to be over before it started.  However, it does slow down and lasts about 35 minutes.  I know some enjoy the Demitasse which is 4 1/2 x 32 as well.
At $5.00 for a single or $99 for a box of 25 making it $4.00 a cigar, I wouldn't hesitate to purchase the Don Pepin Garcia Blue Label Firecracker.  This cigar is priced VERY FAIRLY and I'm considering buying another box just because of what you get in this 30 minute smoke.
(7/26/2012)  I spoke with Ed from Two Guys Smoke Shop and if you're interested in purchasing these, they are currently down to a few boxes.  Their online site currently says "out of stock" but do have some left.  They can be reached at 603-891-2122.  Remember to tell them Traveling Stogie sent you!
Rating:  87
Related Links: