Don Benigno cigars are produced in Costa Rica at a location with less than 12 torcedors.  According to their website, he (Don Benigno Arrillo-Monte) was born in Pinar Del Rio, Cuba back in the 1950′s.  Supposedly, most people wouldn't smoke the name brand cigars but rather have someone custom roll cigars for them. Because of this, his grandfather decided to open and operate a small factory and that's how Don Benigno Arrillo-Monte was introduced to the cigar industry at a young age.
According to Jose Ramos, the cigar rep for Don Benigno cigars in the northeast, production is limited to only 1000 boxes of 25 per month for the entire line.  That means their factory in Costa Rica produces 300,000 cigars annually and 60k of those are reserved for sale in Costa Rica.  While in the past, the remaining production would be distributed from Brazil, this is now moving to the United States.  This cigar won't be available in any large cigar retail shop because this allows Don Benigno cigars to control production and focus on quality.
In 1997, Don Benigno immigrated to Costa Rica and immediately pursued a career in his true calling, cigar rolling. Starting with basically nothing but his skills and bare hands, Don Benigno Cigars was born. First on his kitchen table with the most basic tools, Don Benigno quickly gained notoriety in Costa Rica's cigar smoking circles. Shortly there after, Don Benigno opened his first Cigar Shop in a historical district of San Jose near the city's beautiful National Theater (Theatro Nacional) where he rolled cigars and administered the store.

(cigars that Don Benigno considers part of their large ring gauge portfolio)

Corona Gorda  "5.6 x46″

Gran Corona  "9.1 x 47″

Double Corona  "7.7 x 48″

Churchill  "7 x 48″

Petit Robusto  "4 x 50″

Robusto  "4.75 x 50″

Piramide  "6.1 x 52″

Figurado  (unknown at this time)

Reserva  "5.9 x 52″

Exigente  "6.5 x 54″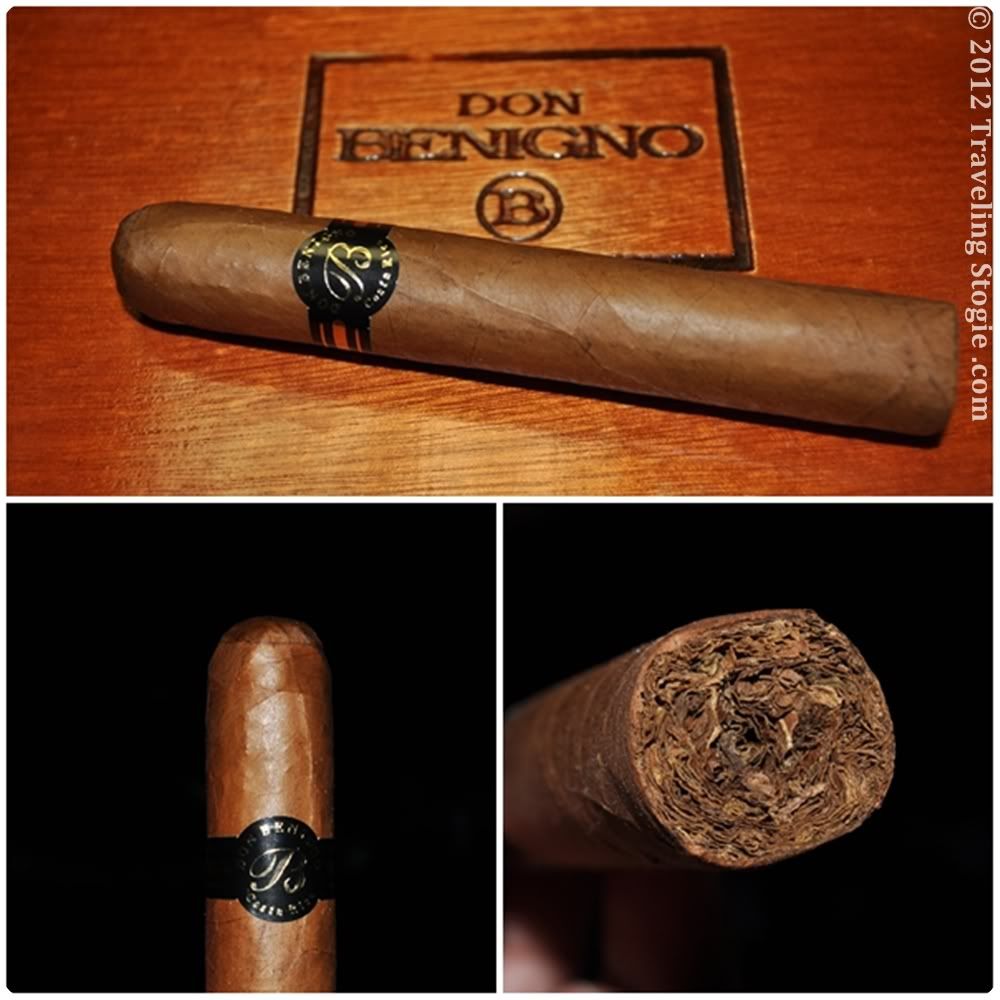 Don Benigno Robusto
Wrapper:  Ecuadorian Connecticut
Binder/Filler:  Costa Rican
Size:  4 3/4 x 50
Vitola:  Robusto
MSRP:  $7.50
Time In Humidor:  14 Days
Smoke Time:  1 hr 20min
Drink:  Water
Construction/Appearance:
The wrapper has a bit of a honey glazed appearance and is smooth to the touch.  The wrapper is uniform in color as well.  The veins have a soft feel and while the triple cap is integrated well into the cigar, it does look uneven and unconsistent.  I like the amount of give the cigar has when squeezed all the while noticing only one or so soft spot.  The Don Benigno Robusto has an average amount of weight, nothing heavy or light.  As for the band, it's made up of two colors, black and gold, which looks like they're going for an elegant appearance.  However, the ink doesn't seem to be consistent across the board so the quality seems to be lacking.  But, I never smoke a cigar for the band so this doesn't bother me much other than the presentation.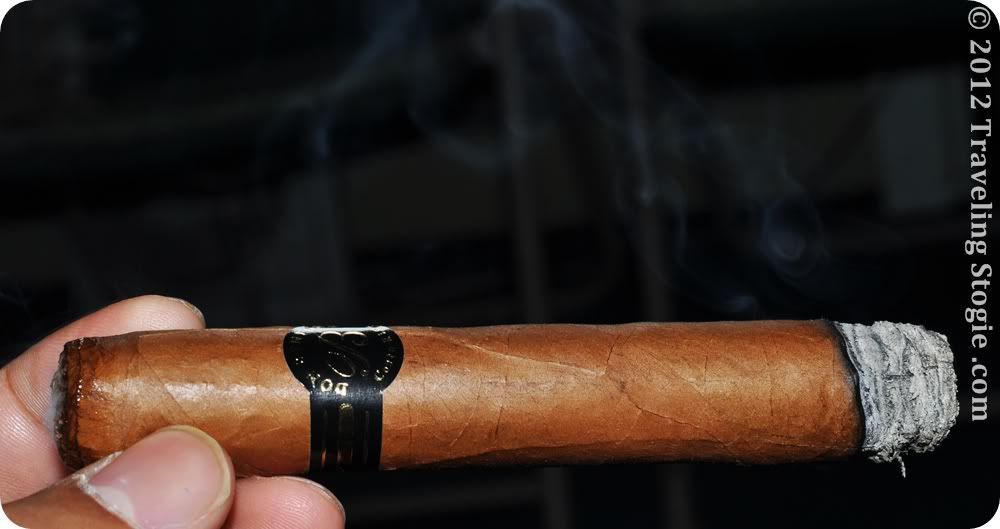 Burn/Draw:
There was some resistance when making the cut across the head but no evidence of any loose tobacco. I was impressed with the cold draw as it was smooth.    The burn had some jagged lines but it appeared even when looking at it as a whole.  I smoked three of these for the review and noticed the draw on the first two was slightly tighter than the last one.  They all eventually settle down to a comfortable draw for me.  I am absolutely impressed with the amount of the smoke the Don Benigno Robusto is putting out.  It has a brilliant white color especially with the light shining through the windows at the right angles.  The ash is semi white lasting about 3/4 of an inch and seems fragile.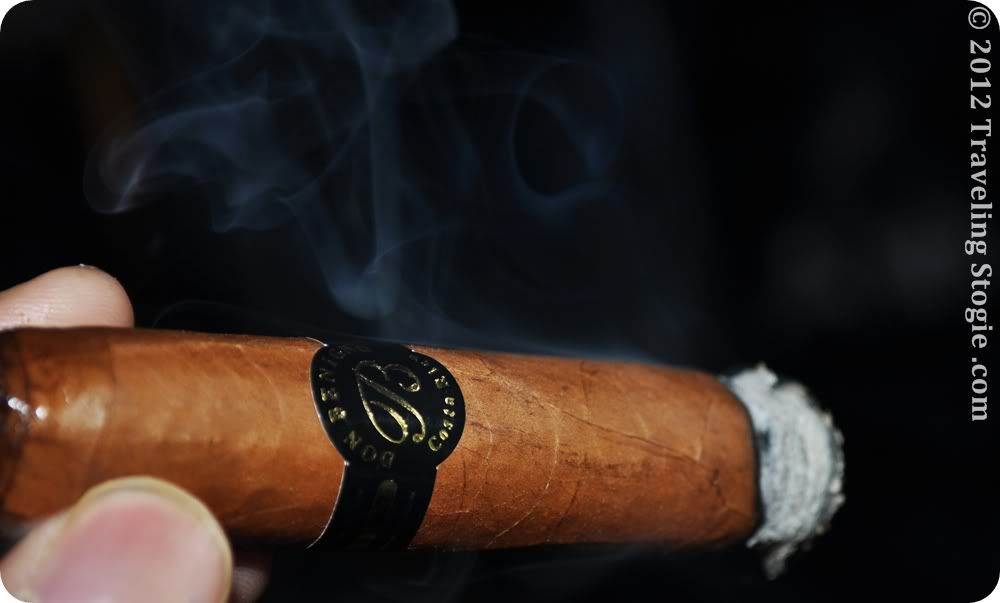 Flavor/Aroma:
The wrapper has a wonderful sweet spice, cedar and oak aroma while the foot gave off notes of chocolate, cocoa and cedar.  I found the aroma to be delicious that contributes to the overall experience of the Don Benigno Robusto.  I tasted a bit of pepper on the initial few draws as well as some wood and oak notes.  The first third welcomes you with cedar and sweet undertones and the overall flavor profile has a creamy texture to it.  The medium bodied cigar does have enough depth and the aroma of spice, floral notes and caramel are solid.  At times I get some wood notes mixed with pepper lingering on the finish.
In the second part, some slight bitter notes round out as I pick up notes of graham cracker.  Initially I thought there was some vanilla but didn't linger around enough for me to confirm.  The flavors aren't entirely complex but it is enjoyable.  The familiar notes in the first and second dissipate though wood and oak notes are prevalent.  The flavors leave a dry sensation in the back of my throat but it might be hard to notice with the types of prevalent "woody" notes.  The strength hasn't gotten out of the medium category but the overall complexity might be above average.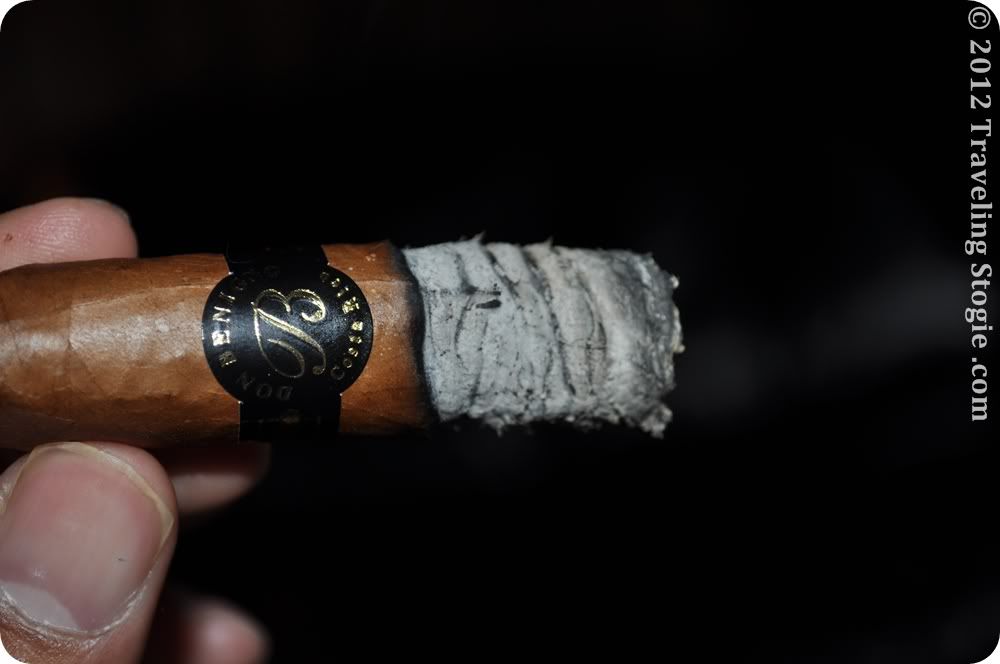 Final Thoughts:
This cigar was interesting to say the least because it started out with a good first third leading to a unique second third but I felt letdown while smoking the last part.  This cigar was slowly building up mixing in some good quality flavors but I thought it could have easily ended with a better finale.
As cigar that originates in Costa Rica, I thought it was good.  Not a bad impression, but not an extremely memorable one.  I would probably still reach for a Don Benigno again because of the quality in construction and above average flavor profile.
I believe some rest six months up to a year may improve the flavor profile itself.  However, it's already pushing medium strength while some smokers may even consider this to be a mild smoke.  I feel it's deceiving because of the lack of pepper or spice in the smoke.  The overall profile has a cream texture which makes it fairly smooth.
I tried to verify production numbers but unfortunately I'm still waiting for a call back at this time.  I do believe production is very low.
This cigar isn't wildly available and even though this is a popular brand oversees, the number of shops selling this cigar in the United States is minimal.  They do come in ten count boxes which makes them very affordable.  If you're interested in this cigar, Tasty Tobacco Shop can be reached at 877-967-6653 or online.
Final Rating:  88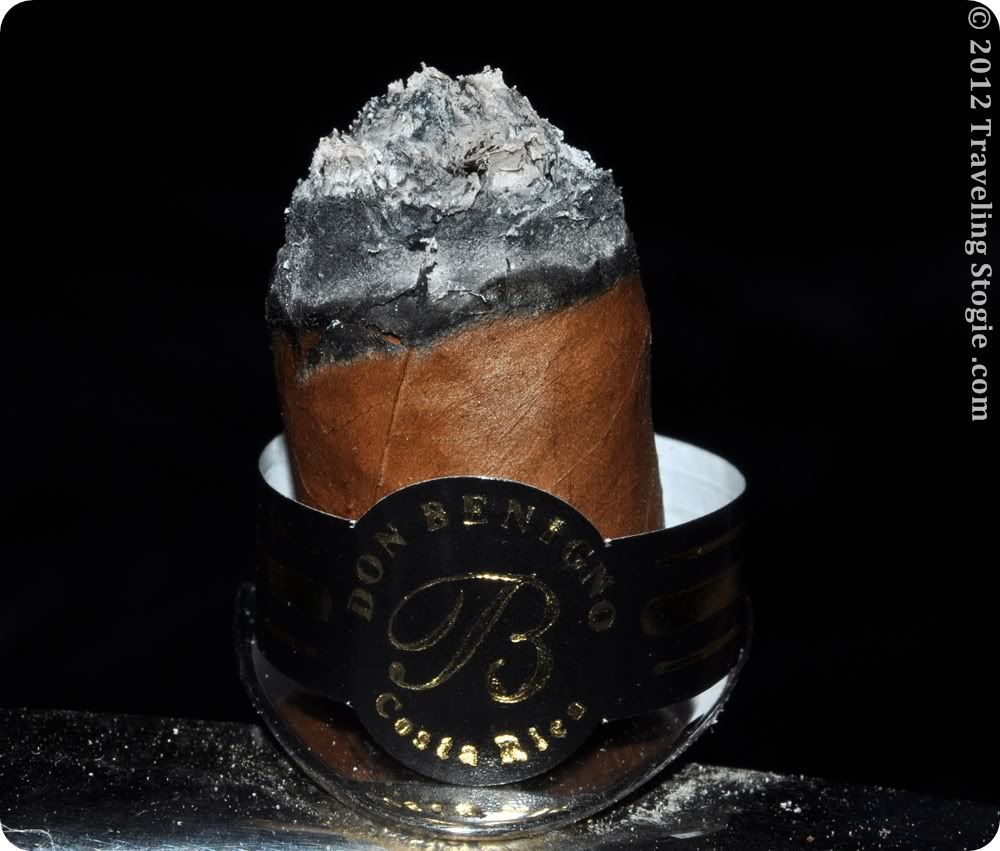 Related Links: