Crowned Heads is a new brand that was founded by former CAO employees Jon Huber and Mike Condor.  Incidentally, the Four Kicks cigar was made at E.P. Carrillo's facilities in the Dominican Republic.  This is what Ernesto Perez-Carrillo, Mike Condor and Jon Huber had to say about working together:
The partnership not only marks the first brand release from the Nashville-based company, but it is also the first time in Perez-Carrillo's distinguished 40+ year career that he has agreed to partner with a company outside of his own to produce a new cigar brand. "Ernesto's career and tobacco knowledge is nothing short of legendary," said Crowned Heads' Mike Conder, "and we are honored that he has opened his factory to us and shared his expertise."

Crowned Heads' Jon Huber commented, "Four Kicks' is a concept that has been with me for over a year now. After an intensive 6 month search of the best cigar-makers in the business, it became clear to us that Ernesto was the choice to bring our vision to fruition."

Perez-Carrillo stated, "From our first meeting, it was clear that Jon and Mike shared our passion – to create a distinctive boutique brand that emphasizes quality over quantity. I've personally known Mike and Jon for a long time, and my family and I could not be more excited about working with them on Four Kicks." what online casino has the best payouts
I smoked the Piramide vitola when they first came out but then was recently gifted a corona gorda to me by Luis of Mickey Blake's which is located in Southington, Ct.  After smoking that one, I realized how well they have developed and decided to purchase a few more for a review.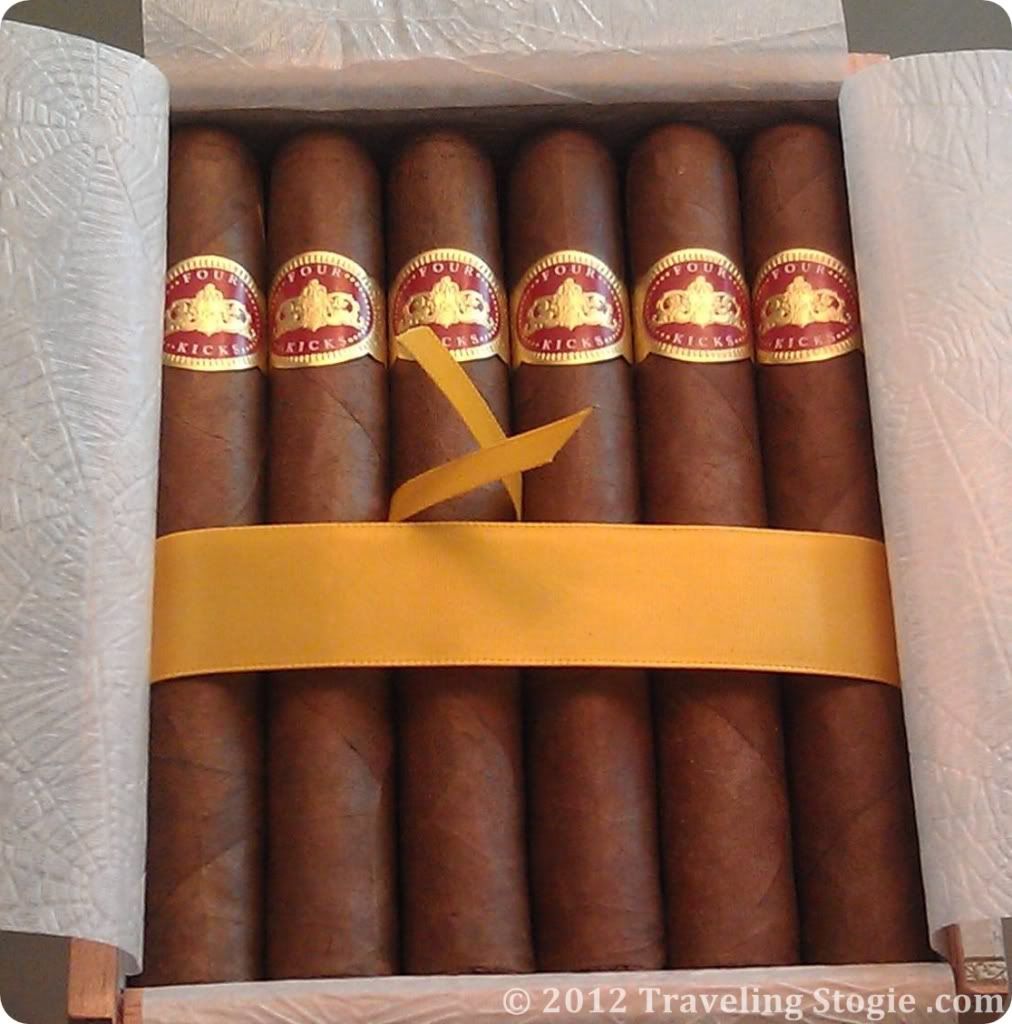 The initial production consisted of four different vitolas though there was an addition in late April of 2012.
Robusto:  "5 x 50″

Sublime:  "6 x 54″

Piramide:  "6 1/8 x 52″

Corona Gorda: "5 5/8 x 46″

Seleccion No. 5 "6 1/2 x 44″ (new addition)
5/11/2012
Crowned Heads Four Kicks Corona Gorda
Wrapper:  Ecuadorian Habano
Binder/Filler:  Nicaraguan
Size:  5 5/8 x 46
Vitola:  Corona Gorda
MSRP:  $6.95
Smoke Time:  1hr 30min
Days in Humidor:  180
Drink:  Water
Construction/Appearance:
The first thing that caught my attention was how well the band goes with the cigar.  I loved the beautiful gold lined label that had a sharp red background with "Four Kicks" written in white.  The veins are seamless except for one that was on the bottom of the cigar.  I did notice a couple of minor tears on the wrapper which was only one of my cigar for reviews.  The corona gorda feels good in my hand and well rolled and love the classy look of the cigar.  The wrapper had different shades not in terms of spotting but similar to marbling which I found to be unique.  The band did take a piece of the wrapper off though I found this to be very minimal.  Even with the minor "flaws", I found the Four Kicks Corona Gorda to meet my expectations rather well.
Burn/Draw:
I made a sharp crisp cut across the head and the cold draw was light and slightly airy.  I'm hoping that would change once I get on with the review.  There's something about lighting corona gordas as I find it very easy, though sometimes it is possible to apply too much flame to the foot because of the smaller ring gauge.  The burn was a little uneven in the beginning though this corrected itself in the first third until the last third where it became a little jagged again.  This was easily fixed with the lighter.
The draw started out a bit light for me but within 15-20 minutes of smoking, the draw was as close to perfect as I could have expected.  An airy draw on a corona gorda will make it burn very quickly from my experience.  The light brown smoke was a continuous stream and on the draws, the smoke had a chewiness to it.  The ash was good and lasted a little less than 3/4 of inch and while it would look or appear solid, it fell on the floor twice unexpectedly.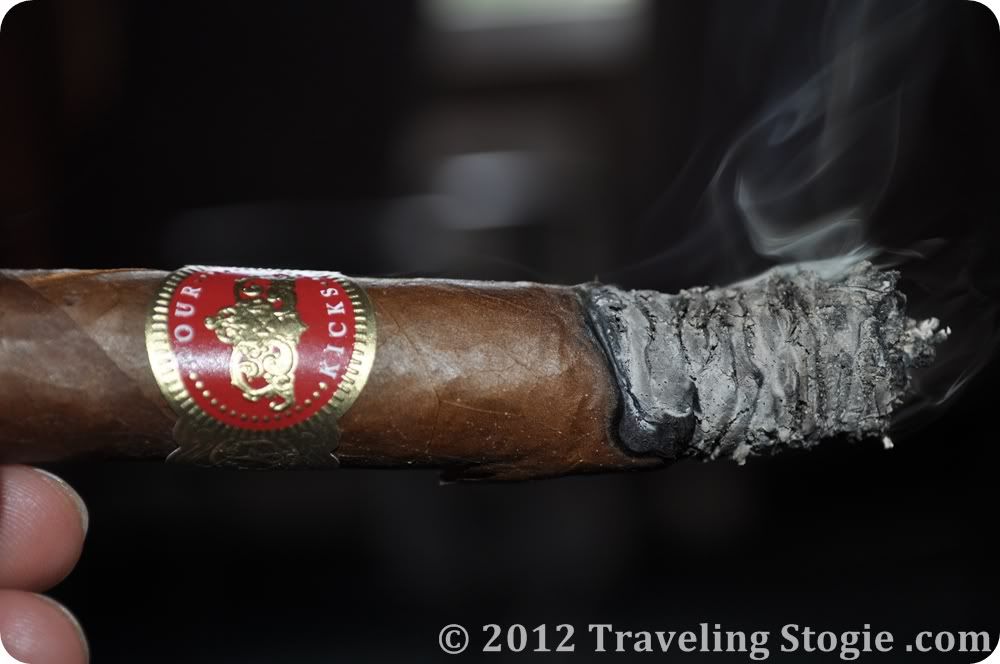 Flavor/Aroma:
The wrapper had a faint tobacco smell while the foot only magnified it while adding some cedar and spice to the mix.  On the initial draw I got some earth and wood notes with plenty of spice.  However, this changed a bit as graham cracker notes entered the flavor profile in the first third.  The spice wasn't as strong but it had a smooth texture to it.  The Four Kicks Corona Gorda feels like a medium bodied cigar with a good variation in flavors up to this point.
In the second third, I'm still getting some sweet flavors, toasted wood, smooth leather and earthy notes.  I am really enjoying how this cigar is coming together with the flavors alternating in strength.  The aroma is absolutely delicious and a delight to smell.  It reminds me of graham crackers and spice.  I feel that the aroma pairs very nicely with the flavors in the mouth.  Approaching the final third, I am finding the cigar well balanced.  I'm picking up unique flavors such as nutmeg and other kitchen spices.  The earth and wood notes are there though not at dominant.  I'm impressed at how well the spices hold the cigar together.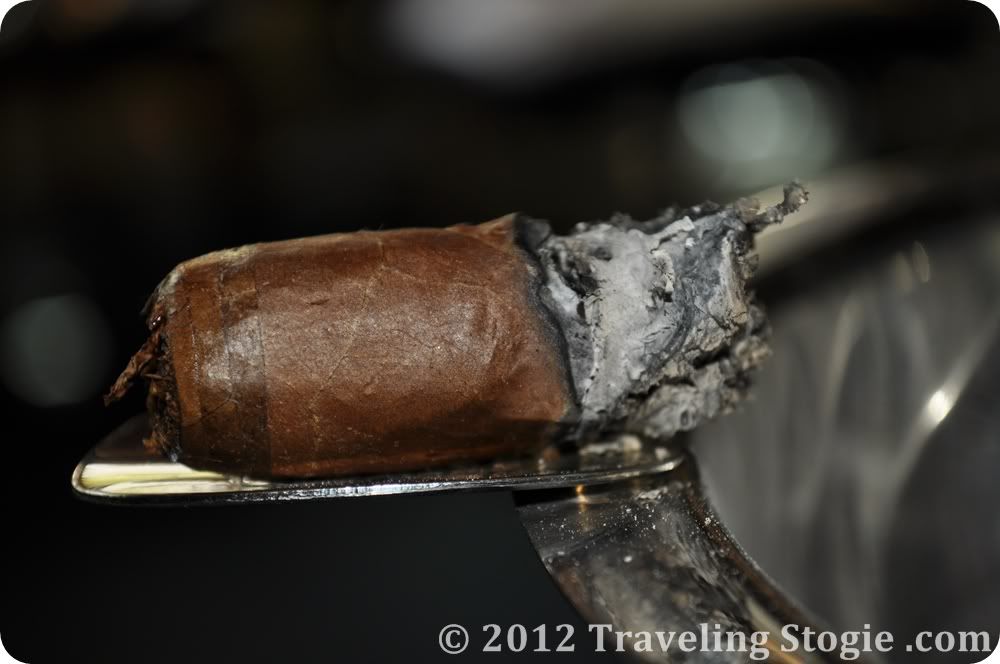 Final Thoughts:
The Four Kicks Corona Gorda feels well balanced from the first to the last third though I feel the cigar really shines in the in the second part.
This is a very good medium strength cigar that has a good variety of flavors.  This goes to show you that you don't always need a full strength cigar to get more flavors out of it
While I don't like making comparisons with cigars coming out of the same factory, I can see some similarities with this and other cigars from E.P. Carrillo.  The aroma really reminded me of some of E.P. Carrillo's releases most recently the NWC Short Run 2012.
I think these are smoking very nicely with 6 months of rest on them as compared to when they were first released.  I am sure these will improve a bit in another 6 months though I can't say how well they will age years down the road.  To be honest, I don't know why anyone would sit on these seeing how balanced the profile is already.
I would easily purchase a ten pack of these and a box if I could smoke them on a more consistent basis.  I think the price point is fair and the enjoyment factor is high considering how long the cigar lasts. play live online roulette
This cigar is available for purchase at Twins Smoke Shop.  You can reach Kurt at 603-421-0242. real pc slot machine games download
Rating:  91

Related Links: