I smoked these when I first purchased the box back in September and found the Casa Fuente Corona Gorda to be smoking very well.  The flavors felt robust and there was nothing to complain about in regards to the construction or draw.  I felt it was time to revisit them and do an indepth review of this specific size for the Casa Fuente line.  It's somewhat hard to obtain the exact blend of the corona gorda (or any of the sizes for that matter).  The wrapper is cameroon and the binder and filler are supposedly a tweaked version of an Opus X blend though I couldn't confirm that.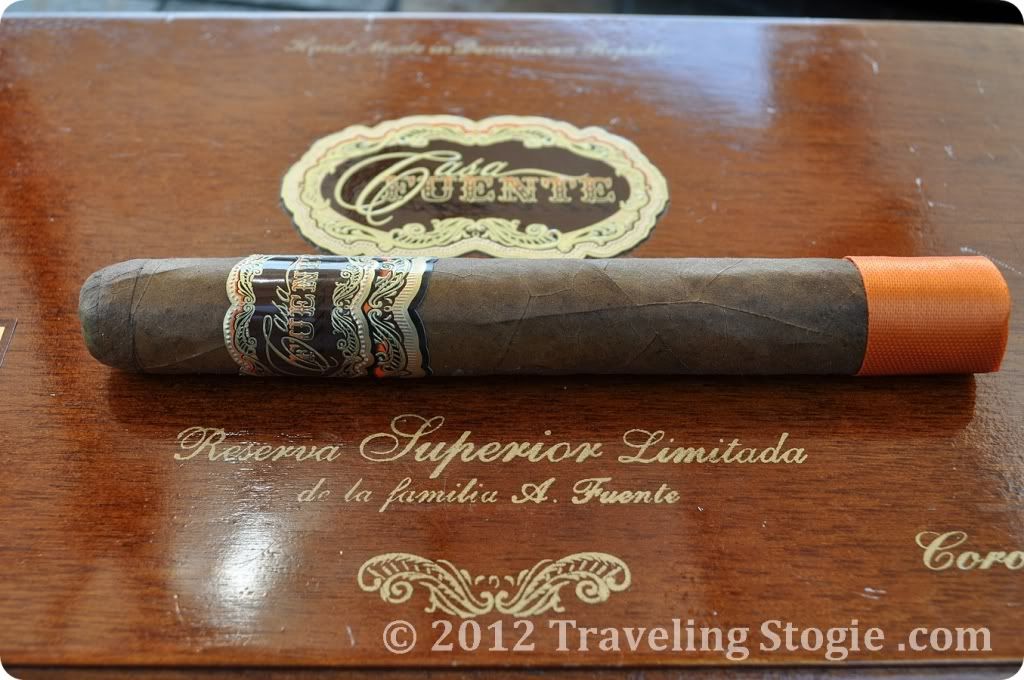 I spoke with Cole at Casa Fuente and was provided with the following information:

Corona Gorda "5 5/8 x 46″ $18

Double Robusto "5 3/4 x 52″ $22

Robusto "5 x 50″ $21

Double Corona "7 5/8 x 49″ $28

Churchill "7 x 47″ $25

Lancero (Phantom) "7 1/4 x 41″ $22

Pyramide #2 "6 3/8 x 52″ Only available in sampler set

Belicosos Fino "5 5/8 x 52″ $23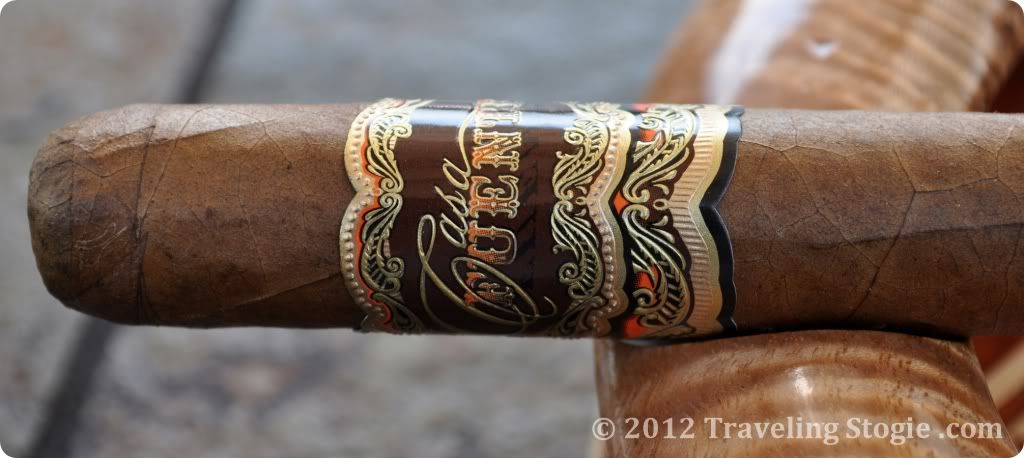 Casa Fuente Corona Gorda 
Wrapper:  Cameroon
Binder/Filler:  Dominican Republic (tweaked Opus X Blend)
Size:  5 5/8 x 46
Vitola:  Corona Gorda
MSRP:  $18
Time in Humidor:  10 months
Smoke Time:  1hr 35min
Drink:  Water
Location:  Backyard
Construction/Appearance:
The Casa Fuente Corona Gorda has a leathery color with a smooth overall feel.  There is some give when squeezed which isn't completely surprising since the cigar seems to be underfilled when looking at the foot.  The cap on this corona gorda is done very well and combine that with the beautiful Casa Fuente label and orange band on the foot, this cigar has some sleek appeal.  This vitola comes in a cellophane wrapper that is marked Casa Fuente and the cigar band moves somewhat easy so no damage was done to the delicate wrapper.  The Casa Fuente band is balanced nicely and not nearly as ostentatious as it could have been considering it represents Casa Fuente in Las Vegas.  I think the colors contrast and pair well with the orange band on the foot.  The veins appear soft to the touch and there isn't much weight to this cigar.  However, I'm very satisfied with the overall construction and appearance of the Casa Fuente Corona Gorda.
Burn/Draw:
I made a very clean cut across the head and there is no sign of any bits of loose tobacco.  I find it easy to light corona gordas and this is no different, rather accepting the flame very easily.  The burn for the most was even and the draw feels snug.  It isn't tight enough where I'd worry but no sooner than I'm thinking this then the draw opens up just enough to make it near perfect.  The smoke has rich creaminess sensation to it and good amount volume as well.  The ash has a white appearance and seems a bit flaky.  However, it's been breezy outdoors lately so that might be having an impact although the ash lasted around 1.5-2 inches.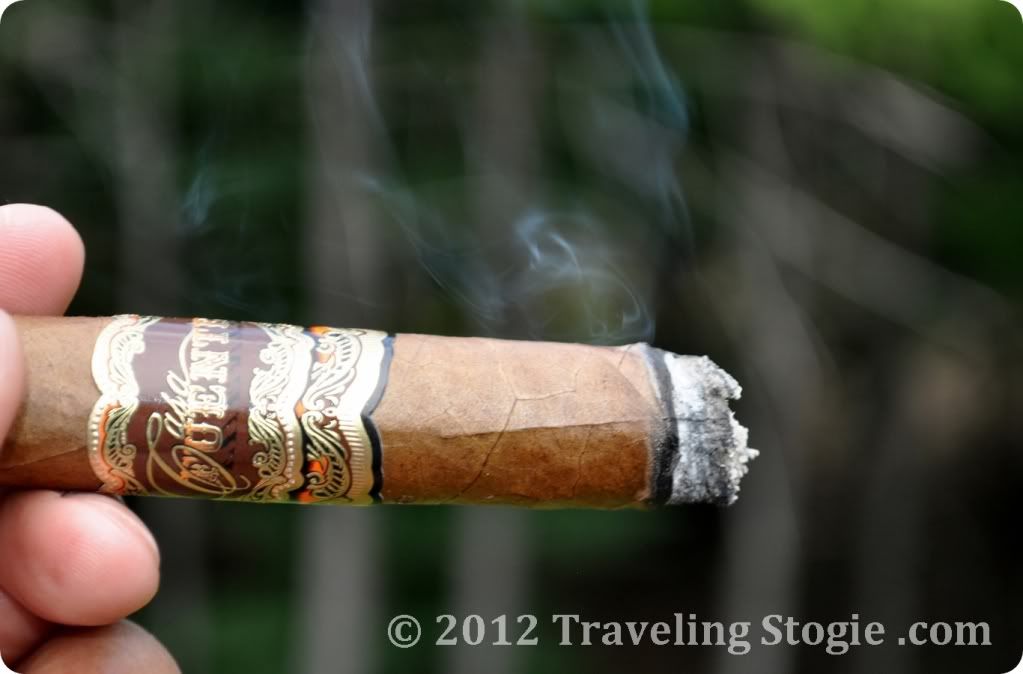 Flavor/Aroma:
The wrapper has a delicious aroma reminding me of cedar, cinnamon, and nicely aged tobacco.  The foot gives off notes of cedar, dried fruit and some more tobacco.  The initial few draws remind me of some herbal spices, fruit and some leather.  Oddly enough, the profile ramps up a bit in the first and I get a red pepper note and cocoa.   The profile is creamy and the pepper isn't overwhelming.  The first third has varying degrees of spice.
The second third still has the red pepper sensation with a medium bite but mixed in with notes of cinnamon gently hitting the palate.  The flavors have a smooth buttery sensation.  There are few (perhaps more) where the flavor reminds me of dried fruit.  The first third was very good but the flavors just come together so well in the second part.  In the last part, I'm noticing that the flavors aren't as defined.  I do get some tangy notes though it settles in a rhythm of wood, earthiness and pepper.  Whatever uniqueness that was present in the first 2 thirds takes a step back.  This isn't a knock on the last third but rather to express how brilliant this cigar was in the first 2 thirds.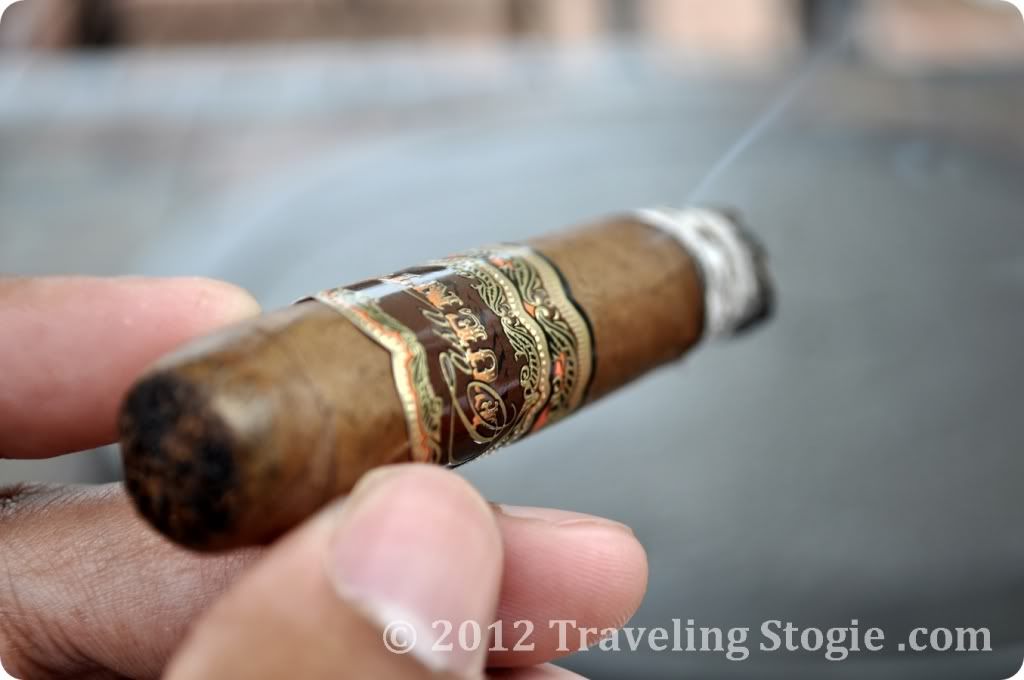 Final Thoughts:
While I haven't tried many of the other sizes in the Casa Fuente line, I find that the flavors are bit more pronounced in the corona gorda size.  The corona gorda represents CF rather well and if I didn't smoke any other vitolas, I probably wouln't be disappointed.
The second third on this cigar was absolutely delicious and the first part was very good and I found the last to be good.  On less quality cigar, the third might be considered the shining moment but on this cigar it leaves you craving for a just a bit more.
The Casa Fuente Corona Gorda has just the right amount of strength (close to a full) yet balances the flavor notes well with subtle nuances throughout the smoke.
Even though the cigar seemed underfilled and not a good representation of a premium cigar, the construction, burn and draw was impressive enough to overlook any minor issues.
With only a year of rest on these, the Casa Fuente Corona Gorda is smoking really well.  With a few more years on them, I'd expect the flavors to marry a bit more but my concern would be losing some of the nuances that make this cigar so good.
The Casa Fuente and other extremely rare Fuentes can be purchased in Las Vegas at Casa Fuente. This is the only place that will have the Casa Fuente line available year round.  There are other rare Fuente (BBMF) available but expect to pay a higher than usual price for them.
At $18 for a Casa Fuente Corona Gorda, you're purchasing more than just a cigar.  You're getting an experience with premium quality cigar that is limited in production and typically only available in one location worldwide.  Any other time you might scoff at the price for CG, but that isn't this time.
While $425 for a box of these is fairly steep for most cigar smokers, I think it depends how much you enjoy having a one of a kind cigar with some very good flavors.  Instead of purchasing a box perhaps, buying a few of certain sizes to smoke while there or even the sampler set which is a good value is a better idea.
Final Rating:  93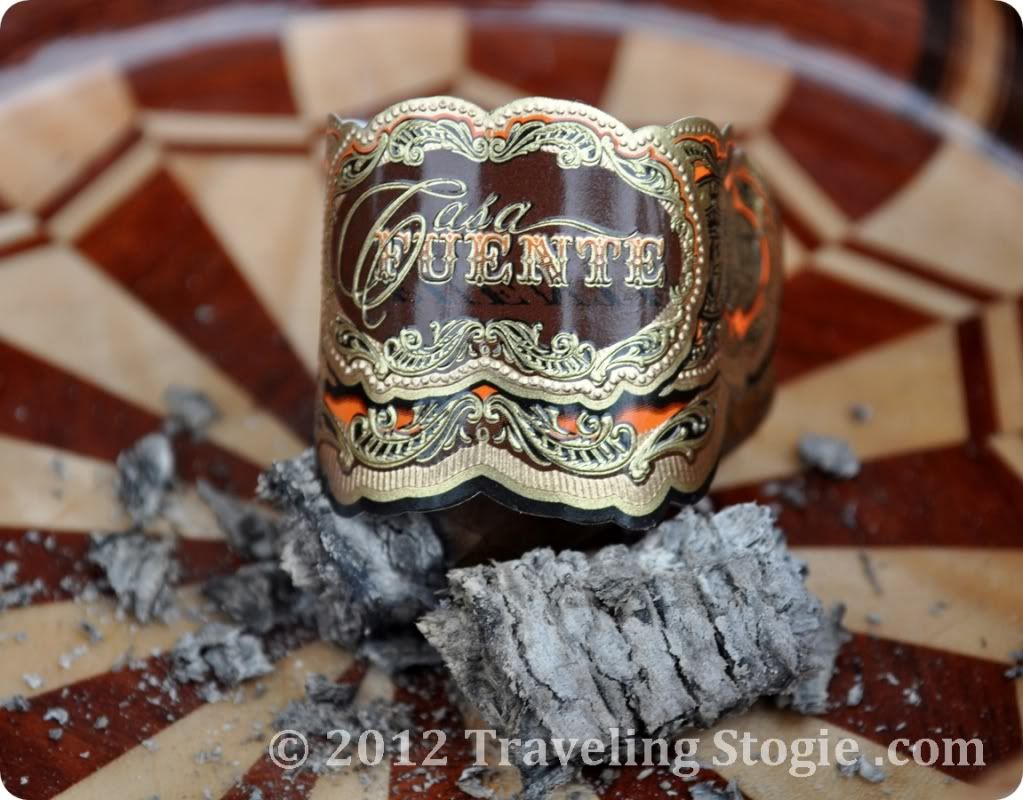 Related Links: