Ashton VSG was first released back in 1999 as a regular production cigar and is considered to be one of the finer smokes from them.  The name VSG stands for "Virgin Sun Grown" and in the process in which the wrapper is grown  according to the Oliva Family.
 The VSG is blended exclusively for Ashton by Carlos Fuente Jr. using 4 to 5 year old aged Dominican tobacco taken from the finest and most fertile plants. The distinct flavor of VSG comes from its wrapper grown on a private estate in Ecuador owned by the Oliva family where this proprietary wrapper leaf is grown for the Fuente Family exclusively for Ashton VSG. The leaf is taken from the higher primings and matures slowly by sunlight filtered through the region¹s natural cloud covering. The result is the rich intoxicating wrapper which has made the Ashton VSG the most in demand cigar on the market today.  (From Ashton)

Belicoso #1 "5 1/4 x 52″  $10.25

Corona Gorda "5 5/8 x 46″  $9.75

Eclipse Tube "6 x 52″  $12.00

Robusto " 5 1/2 x 50″  $10.25

Sorcerer "7 x 49″  $10.75

Torpedo "6 1/2 x 55″  $12.25

Tres Mystique "4 3/8 x 44″  $8.75

Wizard "6 x 56″  $12.95

Enchantment "4 1/4 x 60″  $11.95

Illusion "6 1/2 x 44″  $9.75

Pegasus "5 x 54″  $10.25

Spellbound "7 1/2 x 54″  $13.95

Robusto Especial TAA "5.5 x 52″  $11.00 (2011 TAA Exclusive)
Ashton VSG Corona Gorda 
Wrapper:  Ecuadorian Sumatra
Binder/Filler:  Dominican
Size:  5 5/8 x 46
Vitola:  Corona Gorda
MSRP:  $9.75
Time In Humidor:  60 Days
Smoke Time:  1hr 35min
Drink:  Water
Location:  Backyard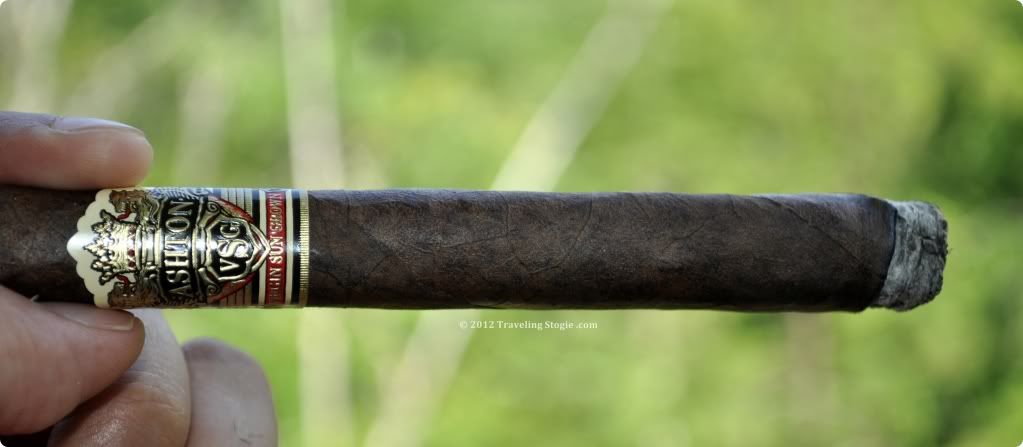 Construction/Appearance:
The Ashton VSG Corona Gorda has a beautiful rounded box press shape.  It isn't as drastic or "edgy" like a Santos de Miami cigar but more similar to a Ortega Serie D.  The cigar does have a prominent vein running on the backside and the wrapper seems to be mottled with the colors but I find it very pleasing.  The rich oil wrapper reminds me of a crisp brownie with the dark chocolate oozing underneath.  The triple cap is seamless and I also noticed that the cigar is very toothy throughout.
Holding it in my hand, the corona gorda is noticeably lighter than cigars of similar vitolas (Undercrown Corona Viva or Casa Fuente Corona Gorda) and it also has a good amount of give when squeezed.  I don't really think this will be an issue but I'll know for sure once it's lit.  The VSG band is classy with a wonderful balance of colors.  I think the overall color pattern pairs well with the various shades of the wrapper.
Burn/Draw:
The cut on the VSG Corona Gorda was very easy probably because it's not overfilled and it is a smaller ring gauge.  The cold draw had just the right amount of resistance and lighting the vitola went without a hitch.  The burn was even and actually a bit fast in the beginning before slowing down to a more manageable pace.  I was definitely happy with the draw as it limited how fast the smoke would last, keeping it to a very solid one hour and thirty-five minutes.  Even with the slight breeze, the smoke lingered eventually dissipating into the air.  The ash lasted approximately one inch which was impressive considering how fragile it looked.
Flavor/Aroma:
The aroma from the wrapper reminded me of cedar with a mix of cocoa while the foot had a more chocolaty presence.  In the initial draw, I tasted some unique notes of nutmeg, espresso with a pinch of pepper.  There is a underlying sweetness that carries over into the first third that reminds me of apple spice and cinnamon.  There are strong notes of espresso, wood and earthy notes that show up in the latter part.  Of the two VSG Corona Gordas that I smoked for this review, I noticed that the 2nd one had more wood notes.  I noticed that there was some tar coming out in the head so I quickly resolved that issue and spaced out my draws a bit more.  This only happened once but it shouldn't be expected on a ten dollar cigar but this should be noted.  While the first third is good, I feel that it merely is an introduction of the flavors to follow.
In the second part, wood and earthy notes are in the forefront while I taste some molasses in the middle.  I find this to be a very nice mix as it's balanced and not overpowering.  I would say that the VSG Corona Gorda is fairly complex and a solid medium.  In the last third, I pick up more cocoa, cedar and nuts but the flavors essentially rotate giving the cigar some balance.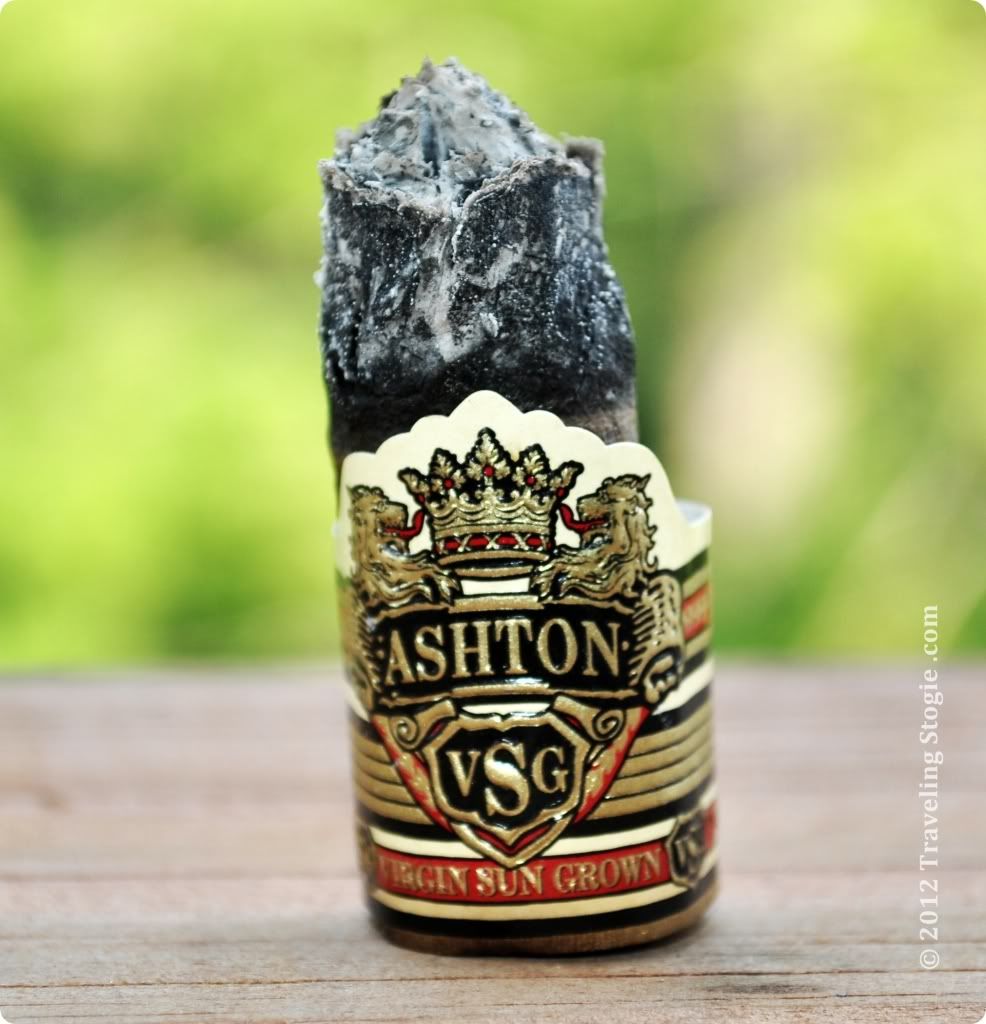 Final Thoughts:
I've smoked various sizes of the VSG though not all of them but I do find the smaller ring gauge vitolas slightly more enjoyable.  Whether this is because the wrapper to binder/filler ratio is higher or just simply because I like cigars with smaller ring gauges, I can't tell you for sure.
This cigar performs well in the first third however, I feel that the VSG Corona Gorda comes together in the second part before introducing a different flavor profile in the last third.  I like specific notes in the cigar but I don't necessarily favor any one part of it.
The complexity of this cigar is above average and the strength stayed around a solid medium.  I don't feel it ever overpowered me nor do I feel that the cigar "bored" me.  In fact, it was the quite the opposite as this is a balanced cigar in terms of strength and complexity.  A seasoned veteran can easily enjoy this blend and though it might be slightly strong in the nicotine content category for someone who smokes mild or lighter medium bodied cigars, I think it would be worth trying.
I've come across the "VSG vs ESG" argument in virtually every shop and I think that they each have their time and place.  I reviewed the Ashton 20 Year Estate Sun Grown (ESG) a few months ago with a couple of years on it and thought very highly of the blend.  I think I would choose the ESG for a special occasion if I have a few of them aging (>3 years).  Otherwise, I would choose a VSG for a relaxing smoke while enjoying the weather.
The Ashton VSG Corona Gorda easily stands on it's own and while the CG may not be your preferred size, I would find the vitola that is and purchase a box if possible.  I do think it's box worthy and would love to revisit it every so often to see how well the flavors are marrying.  Personally, I think  giving these at least 6 months would help any issues in regards to tar.  This cigar would have scored higher if not for that.
Rating:  90
Related Links: