Many people new to cigars will hear about the superior quality or experience with an Opus X.  Combine that with the lack of availability  even though Arturo Fuente produces Opus in excess of 700,000 annually and what you have is a cigar everyone wants.  I have a few friends that have been smoking Opus X since the 90′s and they could tell that something changed in the last decade.  Since they had relations with the Fuente Family, I have no reason to doubt them, however I felt the need to disclose how I was obtaining my background information.  (If you have information that says otherwise, please feel free to post it and I will update accordingly)
 The story goes as such:
Before 2000 (years are approximate), Opus X used to be "aged" 3 years after rolling before getting released for public consumption.  However, due to the high demand of this cigar and their inability to meet it without changing current processes, they had no choice to but to start releasing Opus X without the 3 years of age.  Obviously, the flavor profile was not exactly the same as a result.  Some cigar smokers enjoy the "fresh" flavors while others (perhaps the majority) love how the cigar feels a bit more balanced with the 3 years on them.  Either way, this is the way Opus X has been released since 2000 or so.  If you truly want to experience how a Opus X was originally meant to be, smoke one with 3-4 years on them.  So when new cigar smokers complain about the hype behind an Opus X, that's because that "hype" was based upon a different "aging" process.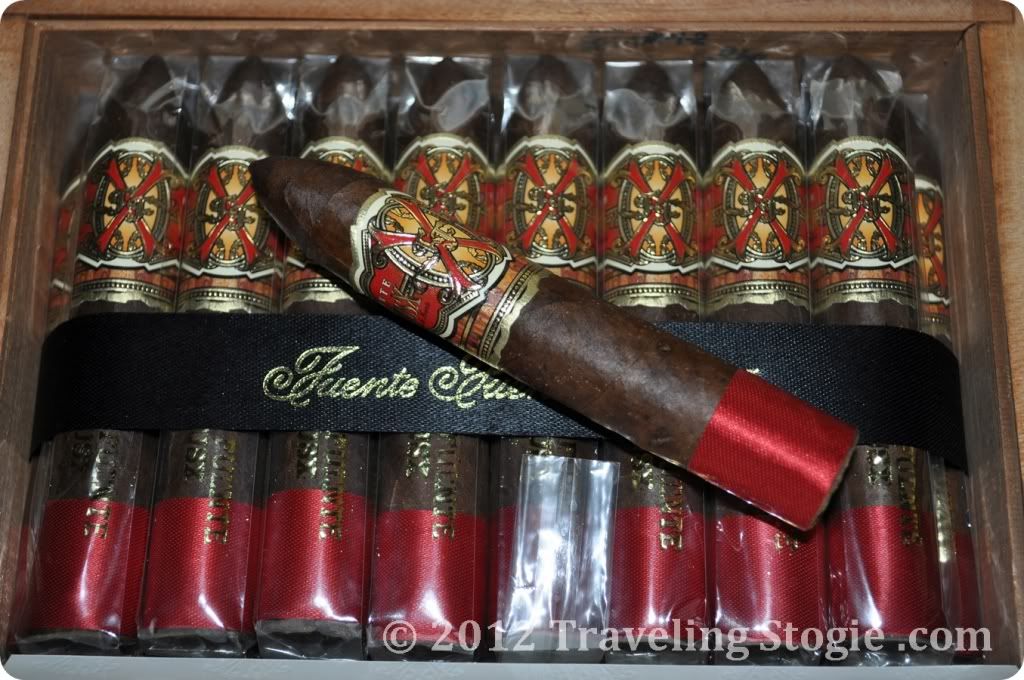 Arturo Fuente Opus X Belicoso XXX "Power Ranger
Wrapper:  Dominican Shade Grown Rosado
Binder/Filler:  Dominican
Size:  4 5/8 x 49
Vitola:  Petit Belicoso
MSRP:  $10.50
Days In Humidor:  750
Drink:  Water
Smoke time:  1hr 30min
Location:  Backyard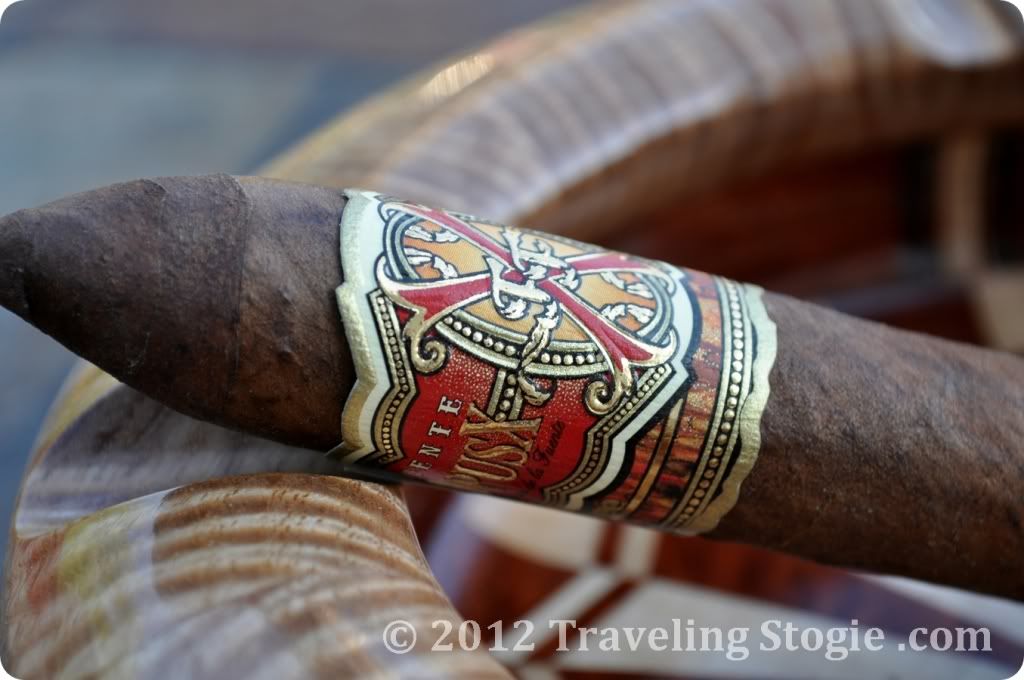 Construction/Appearance:
This wrapper on this beautiful Dominican Puro has a reddish brown color especially when put into the sunlight.  It has darker spots scattered throughout the cigar and does feel slightly soft in select spaces.  The triple cap is well done and even spaced out on the head as you can see the different layers in equal distances. The cigar has the usual Opus X label with a red band on the foot.  I like the size of the cigar as this vitola is known for having a good "kick" to it but I'm sure the 2 years will mellow it out just a bit.  The Opus X Band took a small piece of wrapper off on one of them but it had no impact on the experience.
The cold draw felt airy and perhaps a bit too loose initially but hopefully it will tighten up.  Personally, I think it takes some experience before one starts making the right cuts on a torpedo because the quality of the roll can affect the draw as well.  The burn was mostly even however it was wavy at time but nothing erratic.  The draw was not as full as I typically like my cigars but it was good.  As for the smoke, the Opus X Power Ranger puts out plenty of it .  I had to turn on the Smoke Eater because it reminded me of a dust cloud coming through otherwise.  The ash lasted about 1/2 inches and it did flower a bit when sometimes occurs with Opus X.
Flavor/Aroma:
The wrapper has a smell similar to aged tobacco and the foot is mixed with spices, leather and cedar.  On the initial draw, I was welcomed with a large dose of pepper and leather.  About quarter into the cigar, the flavors start to "pop".  I'm picking up rich leather, spice and some toasted flavors.  While the spice has toned down a bit, the leather has a bite that lingers on the finish.  The cigar feels like a solid medium  that's on it's way to a full.
In the second third, I can see what the 2 years of rest had done to the Opus X Power Ranger.  It hasn't quite reached the levels of an aged Opus, but it's certainly on it's way.  The flavors feel like they are "married" to certain extent.  Leather, toast, and a certain underlying sweetness are the main notes in this part.  The second definitely does shine as compared to the other 2 thirds.  The retrohale is still a spice bomb with other nuances that are overwhelmed.  In the last third, the rich spicy leather becomes very prominent if you slowly allow the smoke to escape your mouth.  To me, this is what smoking an Opus X is all about.  Wood notes start to get stronger as we approach the last 1.5 inches and at this point, the Opus X Power Ranger is a full bodied cigar though not quite the strength when "fresh".
Final Thoughts:
The Opus X xXx Belicoso has mellowed quite a bit in the past 2+ years.  However, the strength can be deceptive as the pepper has diminished a few levels while the leather comes on to the forefront.  Opus can be very smooth with a few years on them
I was surprised at how fast the ash fell off considering Opus X tend to have better construction than most cigars.  While the cigars did flower, this wasn't the case years ago.  IMO, the pressure to keep meeting the demand may start if not already have an impact on the performance of the cigar.
Fuente puts out a variety of Opus X that it's difficult for me to say which vitola is my favorite since I think it would require smoking all of them with different amounts of rest on them.  Depending on the shape however, it may reach ideal smoking conditions more quickly.  The Opus X Power Ranger is on of my favorite but nothing beats an aged Opus.
Does the Opus X deserve the "hype"?  I think it is a very good cigar with some delicious flavors.  I think many people buy Opus just to say they have some.  I have to be in a specific mood to enjoy an Opus X.  Luckily, this will allow me to age the ones that I do have for years to come.  (IMO, Dominican Puros age better than most cigars out there)
This cigar can gain another point with 2 more years of rest.  While it is smoking well now, it can be pretty damn good in the near future.
At msrp of $10.50, this is easily a must buy.  However, many cigar stores will gouge cigar smokers because of the name and charge upwards of $20 for a cigar like this.  I know this is easy to say, but please don't spend that type of money on a cigar like this.  It only raises the expectations and allows the cigar shop to continue gouging other smokers because they know people will spend the money.
Rating:  91
Related Links: