2010 Viaje TNT
The weather has been getting better lately and to me, it's starting to feel like summer. Yeah, I know, it's only 55-60 outside right now, but considering a week ago it was 20 degrees, it definitely feels great.
On that note, I decided to light up a Viaje TNT which was made for the 4th of July celebration. If you can see how I got here….warm weather reminds me of summer…we celebrate the 4th of july during summer…..I'll make up anything to try a new cigar out!
2/16/2011
VIAJE TNT
VITOLA: 6.25 X 54
WRAPPER: SUN GROWN COROJO
SMOKE TIME: 2.25 HRS (THAT IS NOT A TYPO)
DRINK: COKE
CONSTRUCTION:
As ran my hand on the heavy but well balanced cigar, I couldn't detect any soft spots at all. It has a well constructed cap with a solid pigtail, nothing delicate. Even though the cigar is veiny, I don't see this being a problem. The sun grown corojo wrapper is quite oily which I always take as a good sign. Not only does this cigar have a pigtail, it has a closed foot, which for some reason, has been appealing to me lately.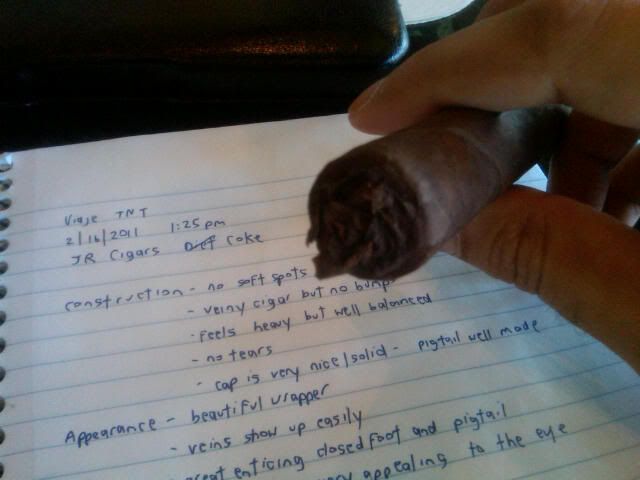 APPEARANCE:
The beautiful oil wrapper is quite an attribute on a cigar that is as well constructed as the Viaje TNT. Even though the veins are prominent, I feel as if those are part of the appearance package considering this is supposed to be a "dynamite" stick. The overall look of this cigar is very appealing to the eye.
BURN:
Using my trusty Xikar Xi2, I made a very clean cut across the head, unfortunately, removing the beautiful pigtail. Lighting this cigar could not have gone any smoother. As you can see from the picture above, I lit the closed foot entirely making sure it had this nice grey appearance. About a minute later, I relit the cigar drawing plenty of smoke. That is something this cigar does not lack: smoke. The burn on the Viaje TNT was great throughout, never having any issues and the draw was perfect. The ash was solid falling off around 1.5 inches verytime and the smoke was very velvety and full.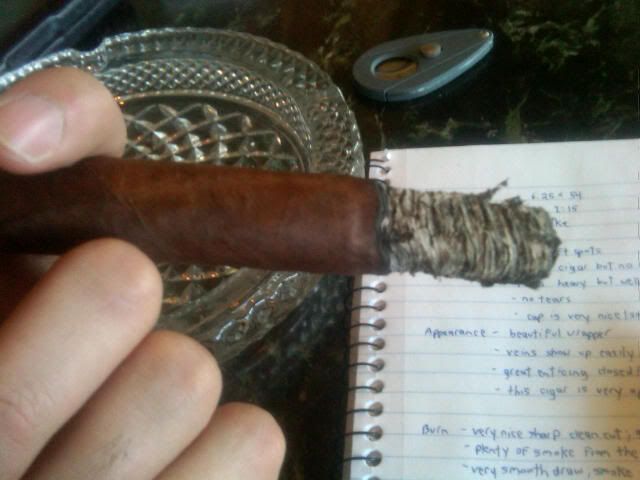 FLAVOR:
Prelight aromas were very faint scent of tobacco, nothing that was telling of the cigar in itself and what to expect. The initial few puffs gave me notes of earthiness and pepper, a very good introduction to this cigar. In the first third, the cigar has a sweet nutty taste followed up with a bit of pepper. At this point, the head of the cigar has a delicious aroma, reminding me of butter pecan ice cream. The cigar feels chewy and creamy, just a great sensation overall.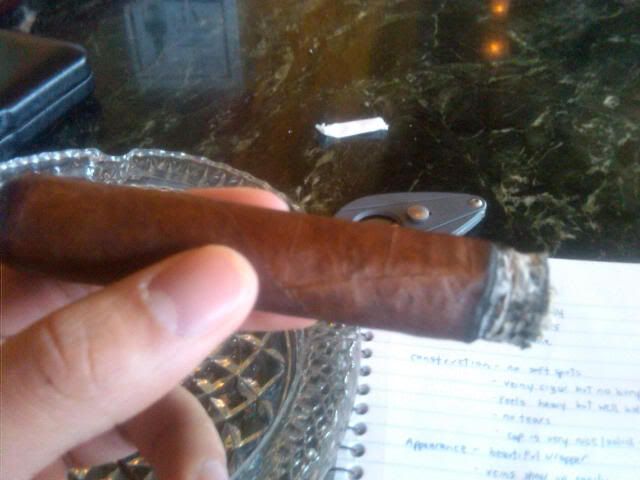 At this point, I decided to retrohale and experienced one of the smoothest retrohales to date. It had a peppery profile followed by pure caramel. I decided to do this throughout the duration of the smoke because it had a great flavor. The second third continued where the first left off as this cigar had a smooth flavor profile. I could taste almonds followed by a peppery note. Nothing overpowering at all but still packing a punch in the nicotine department.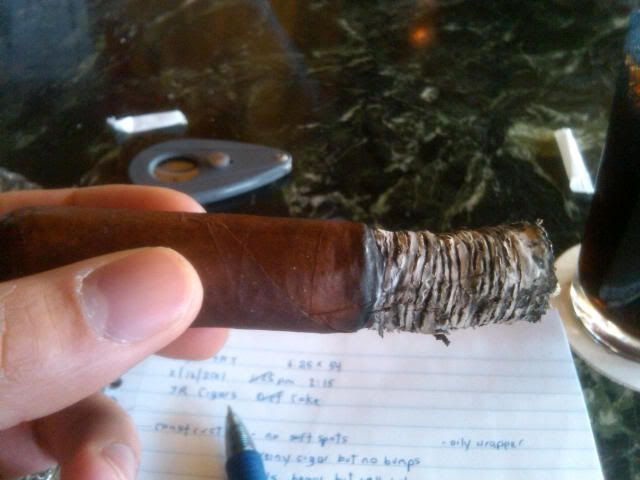 The last third reminded me of sweetened cocoa even though pepper is beginning to get stronger. At about the 1.5 inch mark, this cigar transitioned to a more flavorful cinnamon and spice combination before finishing with dark chocolate. I couldn't tell you what third I liked best because they were all wonderful in their own ways.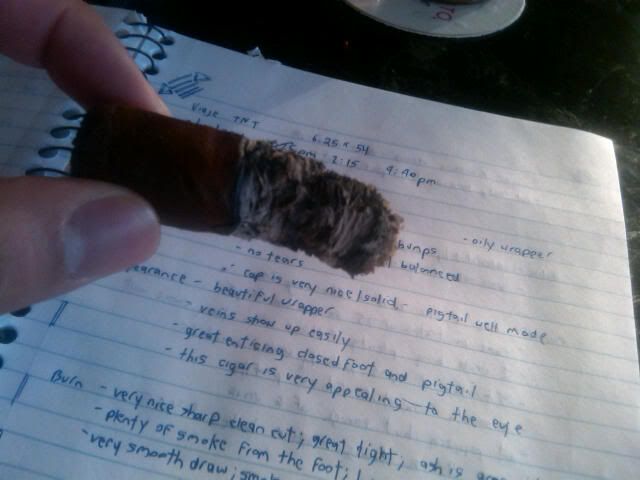 VALUE:
An absolute solid value for the money. It was well over a 2 hour smoke with plenty of flavor. As long as Viaje doesn't dramatically change the cigar, I would have no problem purchasing many more of these.
RATING: 92
OVERALL:
In my opinion, this cigar is probably one of the best in the Viaje line that I have smoked so far. This cigar had 8 months of age/rest on it by the time I smoked it so I'm sure this is probably as good as it will get. The Viaje TNT had a smooth consistent flavor profile and even though it wasn't extremely peppery, it was complex enough to hold attention the entire duration. I would rate this cigar as a strong medium bodied vitola.
Hope you enjoyed the review!