With all the snow that fell over the weekend, I didn't get a chance to smoke a "Christmas" cigar. The first thing I did after shoveling yesterday was head to the b&m, grab a soft plush chair and pull out this wonderful Opus X Shark. I've never smoked an opus before but I have heard some wonderful things.
12/27/10
RH 66%
Temp 67%
Price Paid $19
Smoke Time: About 2 hours
Drink: Diet Coke
I have to say this is probably one of the few cigars that I was willing to pay above msrp without thinking twice. In fact, when I found out my b&m had them, I didn't even hesitate on the price. I just knew that they were htf/rare and this treat doesn't come often. After taxes, it came out to slightly over $20 which I was willing to live with for this experience. As far I am aware, the Opus X Shark is usually only released in the coffin with a price tag of $40 or more until now. I used that price to confirm my odd justification of me getting a bargain on this cigar.
Since I picked up a few of these sharks, I felt it would be "justified" if I smoked one ROTT to establish a baseline for the other Opus X Sharks that would age or rest for a year or more.
The dimensions of the Opus X Shark is very similar to the the Anejo Shark and I believe they use the same mold press. At first glance, because of the shape, one would think they are box pressed but I found out thanks to a helpful Puff member(Thanks Don) they are in fact mold pressed.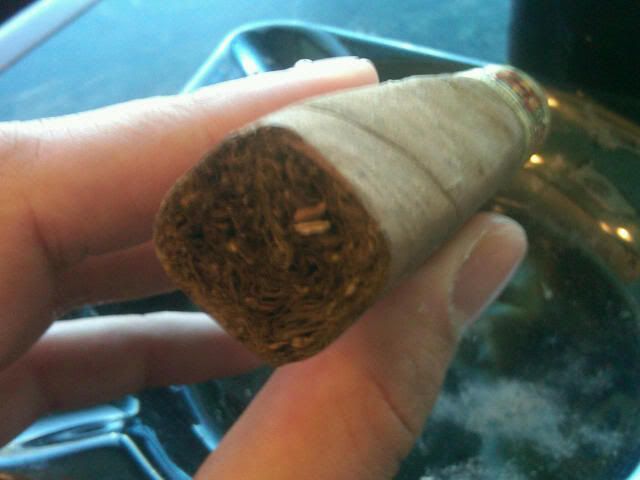 I found the construction to be very good on this cigar. I didn't notice any veins or bumps which could always impact a cigar. When holding the cigar in my hand, it felt very balanced from the foot to the head. I was definitely impressed by how solid it felt, not a light weight cigar. It passed my squeeze test with flying colors and I didn't notice any soft spots on the cigar.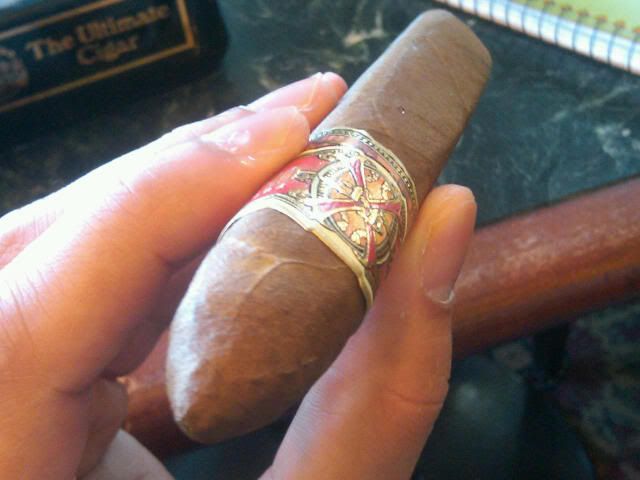 I love the color appearance of this beautiful wrapper. Since I haven't smoked an Opus before, it was a very nice sight to see. I found it to have a nice classy glow to it. Hard to explain, but it just looked elegant. The Opus X Label speaks volumes for itself, as if to say, "here I am!" But yet, somehow I felt it would live up to the label's colorful attitude and style.
Lighting the cigar went fairly smooth with a nice even light occuring after a few minutes of patiently working the flame around. The draw is amazingly smooth yet full. I never had to struggle to draw a good puff but it never was loose. Just an ideal draw, probably one of the best I've had from a cigar. I have to say though the ash was slightly flaky probably due to me needing to apply the flame again to the cigar(I noticed an uneven burn and desired an immediate correction) I found out that simply rotating the cigar every so often corrected the burn which was affected by the air circulation in the room.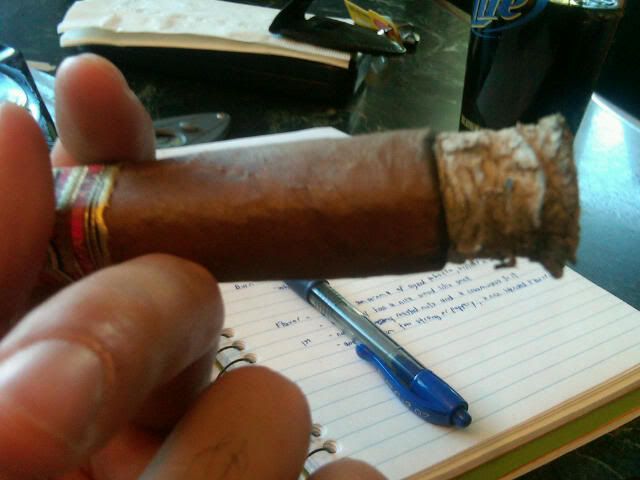 I noticed pre-light aromas of aged tobacco(a wonderful smell), roasted nuts and hints of wood. I don't think it was cedar but could be wrong. This cigar reminded me of vintage premium wood furniture.
In the first third, the Opus X Shark has notes of roasted nuts and a definite creaminess to it. Actually, I was surprised at how creamy this cigar was because I read stories of the strong peppery taste that is associated with Opus. At this point, it doesn't seem too peppery, but rather a nicely blended cigar. If this cigar was gifted to me, I would have thought it had about 1 to 2 years of age minimum. Retrohaling, I was hit a big time dose of pepper. That was a very a strong dose that I didn't bother trying again for this cigar.
In the second third, I am picking up a little bit of spice and a leathery flavor. I didn't notice this before so I'm a little surprised once again. The flavors are consistent but very smooth. As stated earlier, I am surprised by how well this cigar is made. The flavors are complimenting each other nicely….the Shark is impressing me!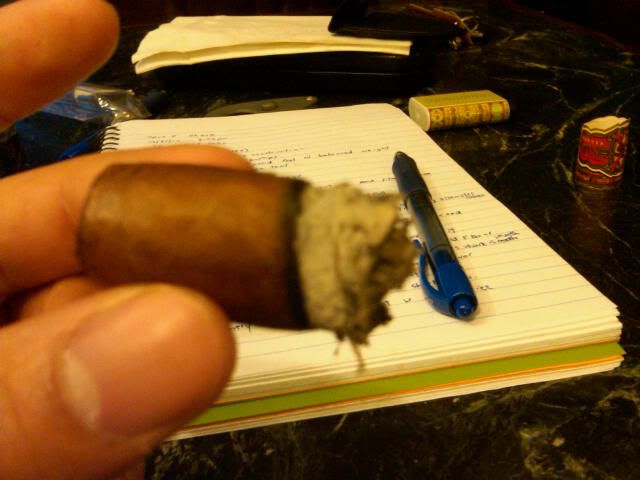 Finishing off the last third, leathery flavors were dominant with notes of spice. The cigar was still creamy and maybe even a little buttery, but the leathery taste made it's presence felt. Definitely a good thing which added some complexity to the overall flavor profile.
Recommendation: Buy
Overall:91+
As stated before I paid a little more than msrp for the Opus X Shark and it didn't let me down one bit. It's probably too expensive for a box buy if you had the chance, but for two hours, I had one of the best cigar smoke experiences. Absolutely nothing let me down on this vitola and I can't wait to try the other ones after some rest. I can imagine how much better this will get!
Just to let you know, I planned to smoking a few cigars yesterday, but the buzz I got from the Opus X Shark pretty much made me call it a day. This is a very smooth full bodied cigar that will give you the ride and time of your life for 2 hours. I enjoyed this Opus X Shark like no other. The debate now which lies within me is, which do I prefer the Anejo or Opus.
I hope you enjoyed the review!