La Flor Dominicana Habano Perfecto
Size: 5 5/8 x 54 (perfecto vitola)
Wrapper: Habano
RH: 64%
Temp: 66%
Smoke Time: 1.5 hours
Price: $8.00
This is the second LFD that I have smoked and considering what I hear about their cigars, this one surprised me by it's smoothness
The construction of this cigar is very evident in the lack of veins or bumps anywhere on the cigar. Checking the perfecto from top to bottom, it's very firm without any signs of softness. In fact, I was impressed that the cigar lacked any imperfections because of its' shape!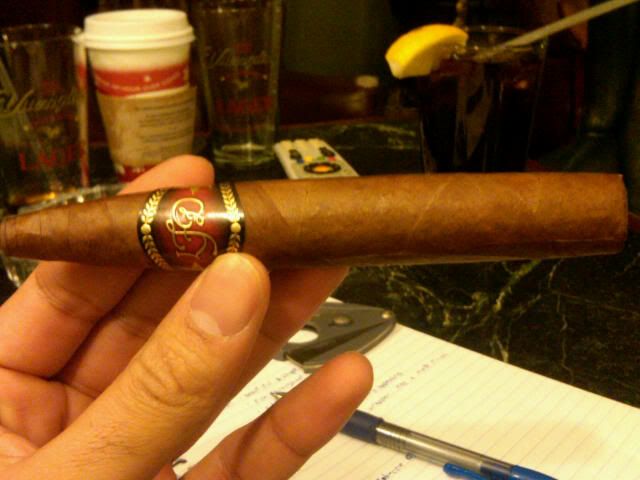 I feel the "perfecto" shape is subtle unlike many other cigars that I have seen where the change is dramatic. It has the usual LFD label but was definitely surprised the label didn't specifically state the wrapper was Habano. I loved the color of the wrapper, a medium brown appearance that had a "matte" finish.
First light went smooth and I could tell that the burn on this cigar wouldn't be a problem Prelight smell was that of aged tobacco, not overpowering, but enough to tell me that this cigar had a variety of flavors to come.
The first third brought a spicy but flavorful taste! It was not overwhelming because of the sweetness that followed. I would have to characterize it as molasses instead of caramel. As you see, the burn is quite even. Perhaps I didn't cut enough off, but the draw is somewhat hard.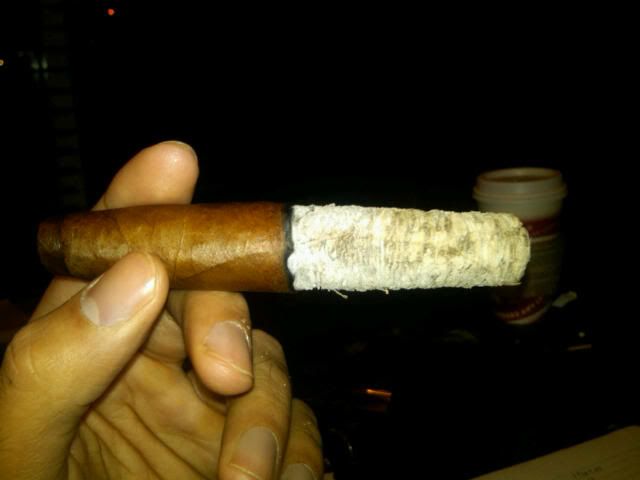 In the second third, the spice moved to the background with the molasses moved to the forefront. This could have been due to the fact of the wrapper playing less of a prominent role when the cigar widened. The ash on this cigar was very impressive! The smoke has a medium fullness to it and a mellow flavor.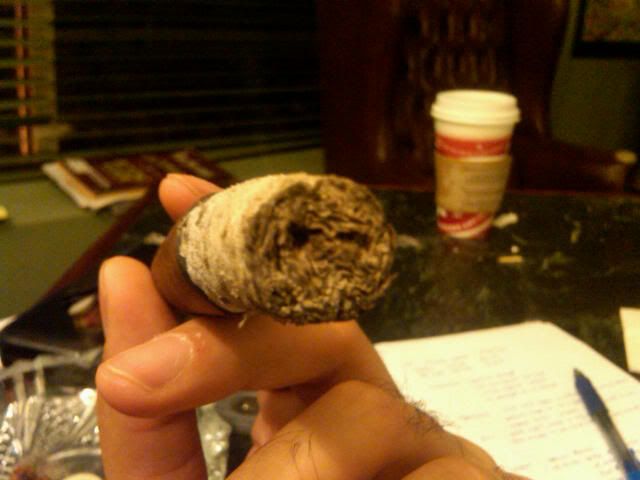 Finally, in the last third, spice decided to come back for an encore while it finished with a sweet aftertaste. The burn corrected itself almost immediately at any given point. The ash was this bright white with no signs of flaking.
I must say, this cigar impressed me from the burn always being even, the ash holding on without worry of it falling onto my lap and the flavor changing throughout the cigar. A very well constructed vitola and while it may not be an everyday it's definitely one that should be tried. Only thing that is a negative is how hard one needs to puff on it to get a decent draw. I did make two cuts which helped and on the next one I'll probably end up making a deeper cut than usual.
RECOMMENDATION: BUY
Keep a few in the humidor because this cigar will not let you down. I find there is nothing better when you can smoke a full bodied cigar that shows the complexity of the LFD Habano Perfecto. An absolutely well constructed Cigar!
Hope you enjoyed the review!