After smoking the Opus X BBMF yesterday which left me slightly underwhelmed, I decided to follow up with an Opus X El Escorpion smoke today.
However, the difference was that I didn't have high expectations due to two reason. One, the Opus X BBMF didn't exceed my expectations so I carried those expectations over to this rare size. Two, the foot of El Escorpion was missing 1/2 inch of rosado wrapper due to transportation damage.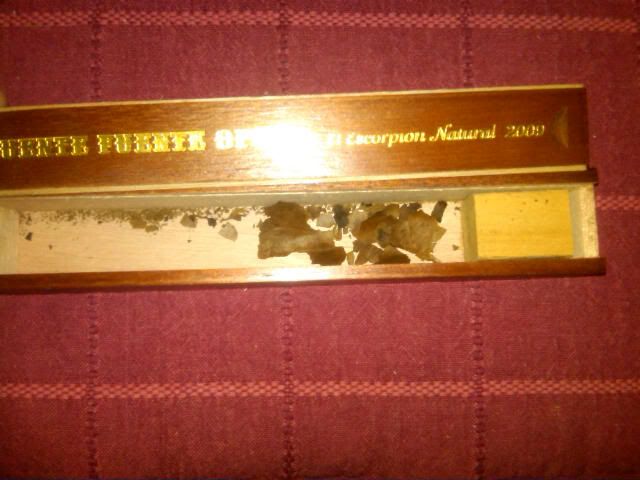 Wrapper Damage
This one came from the CFCF Opus X 22 box made in 2009 with it's coffin as well.
2/8/2011
OPUS X EL ESCORPION 2009 NATURAL
Vitola: 6 3/4 X 51
Wrapper: Rosado Wrapper
Smoke time: 1.5 hours
Drink: Diet Coke
As I did for the Opus X BBMF, I first ate and then proceeded to light this beautiful cigar up.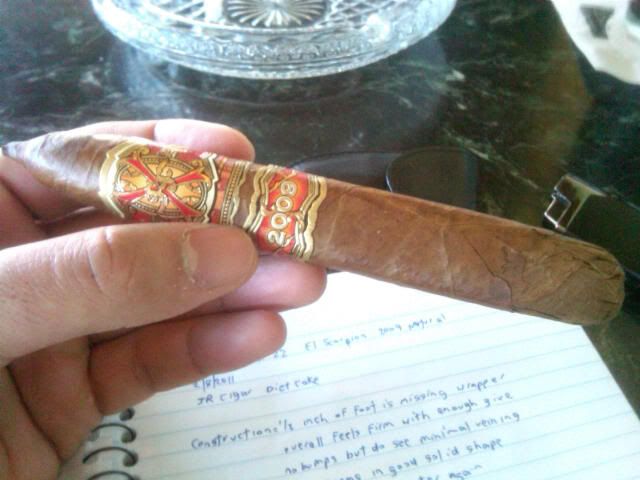 Construction:
Other than the foot missing about 1/2 inch of rosado wrapper, this cigar looks very good and well constructed. Overall, it feels firm but with enough give. I didn't notice any bumps on the El Escorpion but saw some veins running on the cigar, nothing that worried me. The head on the vitola seems solid enough without any soft spots. As with the BBMF, the equilibrium is off center due to the type of shape.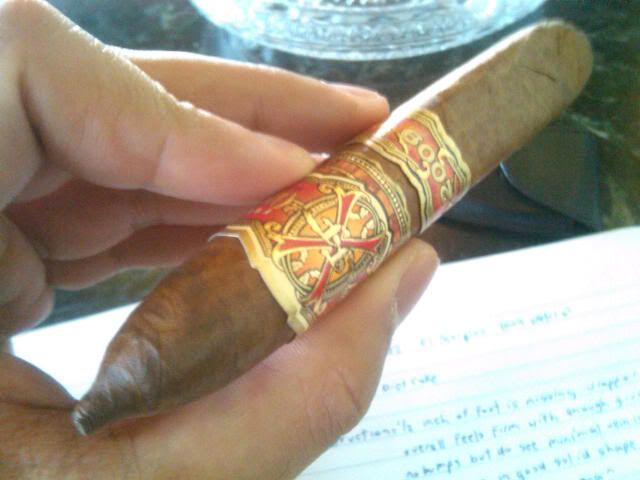 Appearance:
The El Escorpion has a beautiful rosado wrapper with several dark spots on it. I actually liked this because the spots in my opinion, gave the cigar it's own personality, sort of speak. The double band is beautiful as usual an even more expected on a Opus Coffin.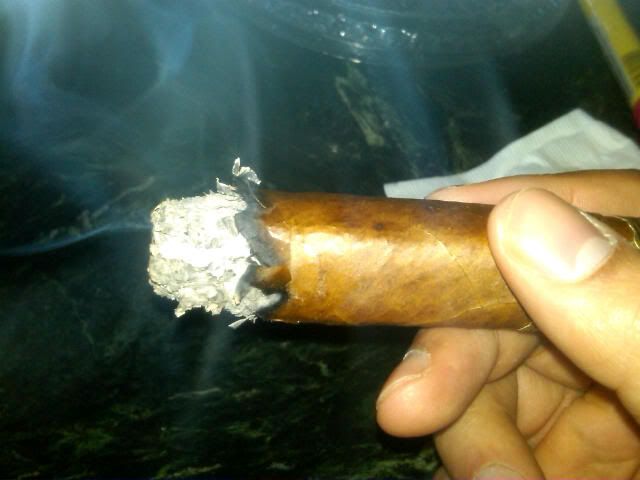 Burn:
Lighting the "El Escorpion" felt a little different because there was no rosado wrapper to light, only the binder at the beginning. It seems to have turned out fine. Ash throughout the smoke was white and the burn turned out to be even with only a few needed correction in the first third.
Initially, the draw was very loose possibly due to a hole at the foot. But, as I smoked through the trouble areas, the draw firmed up to what I consider very good.
Flavor:
El Escorpion shared the same prelight aroma as the BBMF which was cedar and aged tobacco. I find this to be very pleasant and inviting. The first third of the smoke was very light and mild in flavor also due to the draw. However, as I smoke through the 1st third into the 2nd third, the flavors are beginning to shine through. At this point, I noticed the consistent leathery and peppery notes. I also detected some grassy flavors as well, albeit very minor.
As you can tell from the pictures, this beautiful cigar shined through the wrapper issues and continued as if there were never any problems to begin with. In the 2nd third, the cigar becomes very smooth displaying a strong leather profile with a little bit of cream. I also tasted hints of cinnamon and molasses.
In the last third, El Escorpion has more of a spicey/peppery feel to it with a leather finish. Again, I found this to be very pleasant and change in complexity compared to the previous third. The ash on this cigar lasted well into 2 inches and held very firm.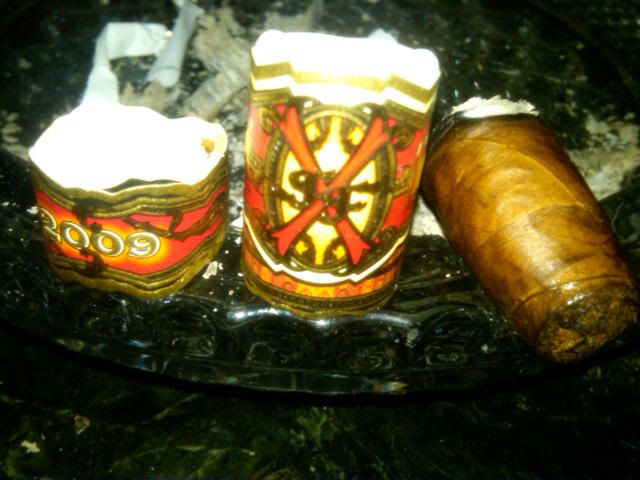 Value: It is a rare Opus X and may not share the same value for all smokers.
Rating: 91
Overall:
This vitola absolutely impressed me with many things. El Escorpion burned right through the wrapper issues without a problem and it changed up the flavor profile throughout the smoke. I found this to be a very solid smoke and enjoyed every moment smoking it. I think what made this a better cigar in my opinion was that I lowered my expectations. I would purchase more of these at a reasonable price and smoke for special occasions.
Compared to the BBMF, I find this vitola to be a more consistent smoke and can imagine how much better it would be in a near perfect condition.
Hope you enjoyed the review!